1. David Thodey - CEO, Telstra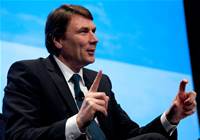 In 2010, David Thodey was charged with mending relations with the Australian Government whilst weighing up the pros and cons of leasing the company's vast fixed assets to NBN Co under the threat of a "gun to his head".
It was the toughest choice one man in Australia's technology sector could have been expected to make in 2010.
Ultimately Thodey chose a path that gets a good return on Telstra's ageing copper network, guarantees a strong future with 4G mobile services and delivers some much needed certainty to disaffected shareholders.
On the frontlines, Thodey has focused on customer service in the full knowledge that within eight years, Telstra will need to be the sharpest retailer in the industry to compete without the advantage of its wholesale network.
If Telstra can earn a few billion dollars from the Federal Government by leasing its assets, plus win back a great deal of the customers it is paid to release under the deal, history will view Thodey's decision as a masterstroke.
What do you think? Any glaring omissions? Feel free to comment below...