EXCLUSIVE: Telstra is considering pulling a large fleet of servers housed within Sydney's giant Global Switch data centre as it consolidates its data centre footprint.
Telstra told journalists at a Technology Briefing today that it aims to consolidate its three current datacentres (as well as IT systems placed in a half dozen smaller facilities) down to two centralised datacentres - one in the Sydney business district of St Leonards and another in Clayton, Melbourne, currently under construction.
"The major, big data centres - the two data centres [with a] complete virtualised environment [for] cloud offerings, will be in Clayton and St Leonards, here in Sydney," said Telstra chief operations officer, Michael Rocca [see video below], to the agreement of two of his colleagues.
According to a slide shown at the briefing, Telstra currently has data centre space at two major Sydney facilities. Some 3,470 square metres of data centre space is listed at its 'Sydney-1' data centre, which from the accompanying photography is undoubtedly Global Switch.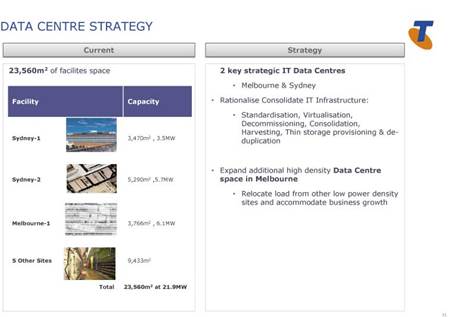 Telstra reveals its data consolidation plans (click to enlage)
iTnews subsequently asked whether Telstra plans to exit the 3,470 square metres of space it leases at Global Switch, which operates at around 3.5 kW per rack, under the consolidation plan.
A Telstra spokesman later said that despite the company's COO, interim CIO and head of network and technology all clearly stating that "St Leonards" would be the site of the Sydney data centre under the consolidation plan [see video below], Telstra was actually "undecided" as to which Sydney facility it would decommission.
Global Switch has been contacted for comment.
The Clayton, Melbourne facility that is likely to replace Telstra's racks at Global Switch is still under construction. It features 1200 square metres of server room space today, with a further 2000 square metres of high density compute space planned for future growth.
The Clayton facility will also feature free cooling (using ambient outside air to computing equipment whenever it is below the temperature of air inside the data centre) and trigen power (using a gas turbine to generate power on-site, fed back into the local grid and used as a failover source of power if the local grid goes down).
Silver Lining data centres
Initially the two data centres will be used for Telstra's internal systems, but over time they will form the central hub of server and storage power for Telstra's 'Silver Lining' cloud computing service.
The vendor revealed today that its 'Silver Lining' cloud compute service uses Cisco UCS servers running the VMware vSphere operating system, Cisco Nexus switches (providing fibre channel and IP connectivity) and storage arrays from both EMC and NetApp.
Silver Lining will also use network monitoring software supplied by HP and automation, configuration management and service management software from BMC.
Lavaro said that customers of 'Silver Lining' - the first of which are already coming online, will be spared having to invest in such infrastructure and consume this compute and storage as a service.
"They can buy it on a pay as you go basis," he said.
Read on for Page 2 - Telstra's virtualisation update and 12 media content centres...