Holographic communication was among several technologies cited by Geof Heydon, Alcatel-Lucent's director of innovation, as being science fiction visions set to become commercial realities in the next few years.
"So far we have had to cheat [to achieve hologram-like communications] using other elements such as smoke to project light into free space," Heydon said. "But very soon, delivering messages in such a way will be ready for the mass market."
Alcatel-Lucent is sponsoring an exhibition at Sydney's Powerhouse Museum that links the technologies of the classic science fiction trilogy Star Wars to advances in science.
Derek Williamson, Science Educator at the Powerhouse Museum said Star Wars: Where Science Meets Imagination is "one of the most popular exhibits the museum has ever put on", responsible for a few of the museum's busiest days.
The telecoms equipment provider has offered its engineers to run science workshops with high school physics students, talking about the ever narrowing gap between yesterday's fiction and today's innovation.
"Everything about Star Wars, be it projections and holograms or the way science fiction takes for granted the time it takes to communicate across space, it is all a great anchor point to talk about technology innovation," Heydon says.
Alcatel-Lucent engineers have shown students how to draw an optical fibre from a rod and project colours through the fibre to show how it carries so much data signal.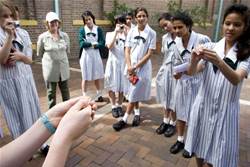 Students from Our Lady of Mercy College Parramatta. Credit: Marinco Kojdanovski, courtesy Powerhouse Museum.
The workshops have given Heydon the opportunity to make some not-so-far-out predictions around such technologies as electronic paper and femtocells (read on on Page 2).