Holographic communication was among several technologies cited by Geof Heydon, Alcatel-Lucent's director of innovation, as being science fiction visions set to become commercial realities in the next few years.
"So far we have had to cheat [to achieve hologram-like communications] using other elements such as smoke to project light into free space," Heydon said. "But very soon, delivering messages in such a way will be ready for the mass market."
Alcatel-Lucent is sponsoring an exhibition at Sydney's Powerhouse Museum that links the technologies of the classic science fiction trilogy Star Wars to advances in science.
Derek Williamson, Science Educator at the Powerhouse Museum said Star Wars: Where Science Meets Imagination is "one of the most popular exhibits the museum has ever put on", responsible for a few of the museum's busiest days.
The telecoms equipment provider has offered its engineers to run science workshops with high school physics students, talking about the ever narrowing gap between yesterday's fiction and today's innovation.
"Everything about Star Wars, be it projections and holograms or the way science fiction takes for granted the time it takes to communicate across space, it is all a great anchor point to talk about technology innovation," Heydon says.
Alcatel-Lucent engineers have shown students how to draw an optical fibre from a rod and project colours through the fibre to show how it carries so much data signal.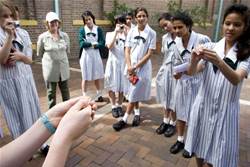 Students from Our Lady of Mercy College Parramatta. Credit: Marinco Kojdanovski, courtesy Powerhouse Museum.
The workshops have given Heydon the opportunity to make some not-so-far-out predictions around such technologies as electronic paper and femtocells (read on on Page 2).
Electronic Paper is just around the corner
Heydon predicted that within a few years, electronic paper will go from drawing board to a small piece of material anyone could fold and put in their pocket.
He said it shouldn't seem too out of this world to imagine video being embedded in electronic paper much as was imagined in the popular Harry Potter movies.
"We have been talking about connected electronic versions of paper for many years," Heydon said. "The prototypes exist but are just too expensive for the mass market. But I suspect we are only a few years away from the technology being readily available."
He expected a "continued push from consumers toward greener technologies" to bolster the development of electronic paper.
The mobile phone will become the personal entertainment projector
Heydon said Bell Labs are working on projection systems for mobile phones, such that a person could point their mobile at a wall to enjoy a big-screen experience of their entertainment and communications.
The unit will turn any mobile phone into a "set top box in your pocket", Heydon said.
"We still have some challenges to overcome around brightness and background light, but the projectors we have built are already small enough to fit in a phone," he said.
Among the barriers to commercial adoption is whether the Bell Labs team can match the power requirements of such projection technology with the limited battery life of most mobile phones.
Cars will be fitted with mobile base stations
Heydon said some Japanese car manufacturers are already considering the inclusion of a miniature mobile base station in vehicles.
Primarily, he said, the base station could be used to provide performance status reports back to the automobile manufacturer's factory.
"There are over 100 computing systems in today's cars," Heydon said. "These base stations could be used to send software upgrades."
The car's mobile base station would also prove of great benefit to the driver - who might be offered a dedicated mobile data communications channel whenever they are within a certain distance to their vehicle.
Heydon said the only barrier is applying the business case.
"Theoretically, consumers are already buying base stations for their homes - those that are investing in femtocells," he said. "Just imagine a femtocell base station in every car that gives you data access whenever you are within 100m of your vehicle. The base station in your car might, like a home femtocell, be only priced at a couple of hundred dollars."
Mobile and fixed networks to go all-IP
Heydon said that with 4G (Long Term Evolution) technologies being deployed as early as this year and many fixed broadband networks being upgrades to all-IP (Internet Protocol), the result will be a "flatter network" which will make new services cheaper to deliver to the end user.
"Consumers will leverage both fibre and mobile networks seamlessly," he said. "They won't know how or which they are connected to, the applications will just choose the most appropriate network."
A common network infrastructure will allow for multiple business models, he said. "It will be like our roads. One common set of roads carry thousands of business models."
How we get to a common network infrastructure, however, is not an issue of technology but "an issue of politics and competition", he said.