UPDATE 1500, 15/9
Telstra's widespread problems with user login and email on its BigPond internet and Foxtel cable services continued into its third day, defying the telco's assurances that it would be back online yesterday.
At noon today a Telstra spokesman reiterated assurances made yesterday that emails would be saved and forwarded to subscribers once the network was resurrected but Telstra stepped away from yesterday's guarantees about when the service would be fully operational.
Some accounts were still locked, he said, and there appeared to be other outages as far afield as Bassendean in WA. At 3pm, Telstra's service status page still showed amber lights denoting service difficulties across the board. It showed the next scheduled update for email status will be tomorrow morning.
Telstra's spokesman would not say if an incident report would be circulated to explain the outages.
Telstra said yesterday the problem occurred with a server on Monday. Telstra apologised for the inconvenience.
"The issue was fixed this morning [yesterday] and we are now working to ensure the remaining backlog of emails are being distributed to customers," Telstra's spokesman said.
"Also, some accounts have been locked due to the repair works that have taken place, we expect these accounts will be operational also by the end of the day."
The outages affected dialup, cable, ADSL, satellite and 3G Next G wireless services across the east coast and email nationally, Telstra said.
Telstra's status pages showed that users started experiencing problems yesterday at about 10am.
"Due to scheduled maintenance, customers ... may experience difficulties connecting to the internet during the service disruption period," Telstra status page showed. "We recommend that customers power cycle their computer and modem before attempting to reconnect. We apologise for any inconvenience."
Cable users afflicted were in Lindfield, Waverly, Northbridge, Maroubra, Drummoyne and Harbord in NSW; Eltham, Cheltenham, Caulfield, Highett and South Oakleign in Victoria and Albany Creek in Queensland.
It also showed cable login timeouts on its hybrid-fibre coaxial network across the east coast.
Australia's biggest ISP also apologised for a national email outage.
"We are currently having problems with BigPond Mail.
"This is affecting customers nationally. Customers may experience delays in receiving mail or accessing their accounts.
"Technicians are treating this issue as a priority and are working on the problem."
* updated 1500 15/9 with Telstra spokesman's email comments.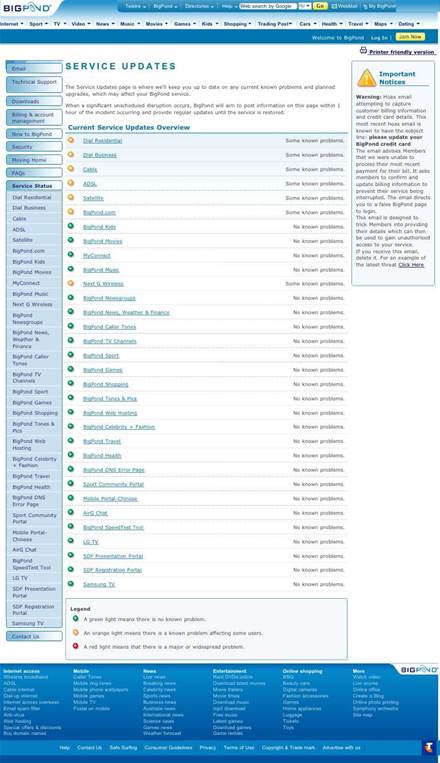 Telstra status page showing widespread BigPond outages