Telstra has revealed that it has signed up two enterprise customers to a secretive enterprise cloud compute it has been developing over the past twelve months.
Today the carrier announced that an enterprise cloud compute called "Silver Lining" was one of several products and services it would provide Komatsu under a $35 million whole-of-IT outsourcing agreement.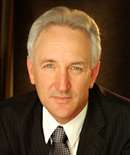 Michael Lawrey, Telstra
Michael Lawrey, executive director for network and technology at Telstra at Telstra told
iTnews
that the carrier's enterprise cloud compute - code-named 'Silver Lining', is one of two Infrastructure-as-a-Service (IaaS) initiatives underway at the telco.
Silver Lining is an external cloud computing service targeted at Telstra Enterprise and Government customers, built using Cisco's UCS (Unified Computing Solution) server and network technology, EMC storage and VMware virtualisation software (collectively known as the VCE alliance).
It offers both server compute and storage capacity on demand.
Komatsu is the second customer after waste company Visy to adopt the service.
Lawrey revealed that the technologies of the VCE alliance are also being considered - alongside the technology stacks of several other vendors - for Telstra's own internal cloud.
Lawrey said Telstra hasn't officially launched Silver Lining as a product - nor announced pricing - as the web interface by which customers can spin up and configure virtual machines is still under development.
"Our intention is, as we go through the release cycle over the next 12 to 18 months, we will build this friendly portal at the front end with the best technology available," he said. "Some of that is still evolving."
But the company is charging for the services in production, he said.
"We have done the initial pilot," he said. "We are way past proof-of-concept. This is now a commercial service."
"We are going to be in the business of providing infrastructure as a service for enterprise-level customers in Australia," Lawrey said. "We are actively looking toward customers interested in moving to this environment."
Lawrey said Silver Lining would appeal to those large enterprises and Government departments that have concerns about hosting their data offshore.
"We've just completed a network transformation program - our NextIP network has unbelievable capacity and speed. Many applications people are looking to push to the cloud are latency dependent, and services offered from offshore have been shown to not give a desirable customer experience."
Lawrey also revealed that the architecture behind Silver Lining - which is currently centralised in one data centre "at the request of the customer" - could potentially form part of a distributed cloud compute that covers the entire nation.
"It can be either consolidated or distributed," he said. "We've got thousands of network sites - hundreds of large exchanges in every major city in the country. We could do this in a distributed fashion as well. We have that flexibility."