A poll posted on iTnews revealed that only 12 percent of existing iPhone users are satisfied enough with their current mobile carrier to remain with them beyond the expiry of their contract.
Of 422 respondents to the survey (see below), at least half plan to switch to a mobile operator that offered a better network, cheaper data rates or fee-free tethering.
A further 39 percent planned to change handset altogether (although the survey did not break out whether a "new handset" might include newer models of the iPhone).
Telecommunications analyst Nathan Burley from Ovum was not surprised by the results.
"If you look at the iPhone proposition, there is not much a carrier brings to the table [beyond] connectivity. Whether you're with Optus, Vodafone, 3, or Telstra, they provide access to services and little beyond that. Apple doesn't allow the carriers too many reasons for customers to stick with their networks. There is no real tie to the carrier from the user perspective."
Burley said many iPhone users seeking better networks would have been burned by the highly publicised issues the mobile networks of Optus and Vodafone experienced when the iPhone 3G first hit the market.
Beyond these issues, mobile networks around the globe are seeing "an incredible amount of data growth," Burley said, driven as much by USB dongles as smart phones.
"For users, you want good connectivity from the iPhone if you're using it for apps and browsing,
he said. "So as a mobile operator, you need to continually update the network to deal with dramatic growth. The networks aren't always ahead of the curve on that."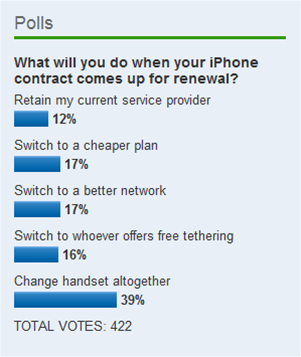 Optus, Telstra and Vodafone were asked to comment on the poll, but none were prepared to engage with the questions in any meaningful way. Some of their responses are below.
1. Is the iPhone market a fickle one? Have you seen much customer churn?
OPTUS: We do not break out device specific sales figures. However I can tell you that the launch of iPhone 3G S has been very successful and more iPhone customers are happier with Optus.
VODAFONE: No. The iPhone 3G S has proven extremely popular with Vodafone customers, selling significantly faster than the iPhone 3G when it was launched last year. Many of Vodafone's iPhone 3G S customers have purchased an iPhone for the first time, as the appetite for data-rich 3G services continues to grow.
TELSTRA: Customers regularly change their handsets to suit their needs - whether that be from a handset to a smartphone - it is a trend that is not new.
2. What are the pressing issues for the first generation of iPhone users? Quality of the network?
OPTUS: We have seen significant interest from both new and existing customers since launch, proving both the continued popularity of the device and the appeal of Optus' plans and pricing.
VODAFONE: Vodafone has had an overwhelmingly positive response from customers with the iPhone 3G, particularly following the iPhone 3.0 Software Update. A large number of Vodafone customers with an iPhone 3G are upgrading to the 16GB and 32GB iPhone 3G S, highlighting an appetite for more data storage space and additional features including video, voice control and compass.
TELSTRA: Network quality and reliability, depth and breadth of coverage, and of course speed are vital to ensure customers get the best from their phone.
3. Some 17 per cent of respondents will switch to any provider that offers tethering without an additional charge - any comment on this?
OPTUS: Hundreds of Optus iPhone fans attended our midnight launches in Sydney, Melbourne and Brisbane, queuing for up to seven hours to be some of the first in Australia to get their hands on the highly anticipated Apple iPhone 3G S.
VODAFONE: Vodafone is a great choice for customers who tether, as they aren't charged a monthly 'tethering access fee' and can use the data allowance included in their plan. Vodafone customers have the option to purchase additional data for tethering; 1GB for $24.95 or 2GB for $29.95, available from August 2009.
TELSTRA: Network quality, coverage, and speed are vital to ensure customers get the most when using their handset as a modem. Telstra already offers a range of Next G phones that offer tethering and we are working with Apple about the tethering feature being added in the near future.
4. One in three plan to change handset altogether. Is the iPhone too data-hungry and thus expensive? Why would there be such an exodus?
OPTUS: Customers are choosing Optus because they know that we provide the best value in calls and data. Our offers recognise people with iPhone's want to browse the internet.
VODAFONE: There is loyalty to the iPhone amongst Vodafone customers, with a large number of those with an iPhone 3G upgrading to the 16GB or 32GB iPhone 3G S.
TELSTRA: Customers regularly change their handsets to suit their needs - whether that be from a handset to a smartphone - it is a trend that is not new.