Telstra has released a series of maps intended to show mariners and yachties how far they can venture off the Australian coast and still get mobile signal.
The maps [see gallery, top right] are an attempt by Telstra to remind Australians of the wider reach of its Next G mobile network.
Readers without sea legs would probably wonder why anybody would care how much signal is available off the coast.
Telstra has some very valid reasons - boating enthusiasts and professionals can "quickly access a wide range of important marine services such as weather reports, tide information, high resolution maps, fish prices, shipping information and more."
That's the altruistic reasons. But pull up a barstool, I've got a better one.
A couple of years ago, my brother and I sailed a yacht from Sydney to the Whitsunday Islands over winter. (OK, so he did most of the sailing, and I did jump on and off at various ports to fly back to meetings, but let's not let the facts ruin a good yarn).
I can testify that Next G worked most of the way up the coast. In fact, several of our employers (we were both freelancing at the time) had no idea we were at sea for several months. And where Next G wasn't strong enough for some workloads, the WiFi we pinched while moored off a well-known Whitsundays resort island did the trick!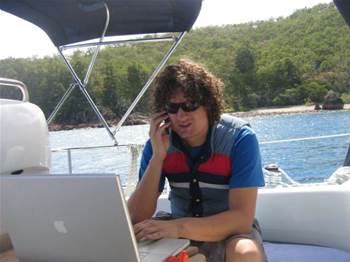 Hard at work in the Whitsundays
Over the past ten years I have met more than a few techies that love their sailing. Ever considered coding your next app en route to paradise? If so, you might be interested in these tips from Telstra:
Use a directly-connected external antenna - one that is omnidirectional or a specialist marine antenna capable of 'tracking' to the best serving base station.
Mount your antenna as high as possible on the vessel. The nature of the on-vessel installation including the height of the antenna equipment above sea level can significantly influence and vary the actual customer experience of coverage and associated voice and data speed performance when at sea.
Don't eat anything that won't hurt too much on the way back up.
I'm interested to hear from readers keen on a spot of sailing. Drop me a line, we'll organise a day out.