The Commonwealth Bank has launched a new branch and ATM locator tool that uses the latest mapping technology from Google, as banks seek to improve the location based search data they deliver to customers.
The tool includes a number of new search features including predictive text on postcode, suburb and street names, the ability to search for business bankers and financial planner contact details, and the addition of Google's new driving directions service.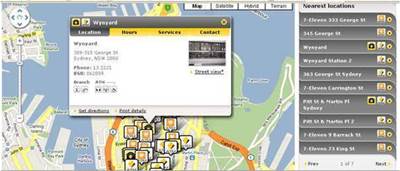 Andrew Murrell, general manager of channel marketing with the Commonwealth Bank said by using the latest Google mapping technology the bank is able to deliver customers the best user experience.
"The search tool is not only easy to use but also features all the information a customer is looking for about a branch, ATM, personal lender and so on - housed in one place, making it easier for customers to do business with us."
Australia's major banks were heavily criticised in a recent Forrester Research report on the web site user experience delivered by Australia's major banks, with Forrester analyst Steven Noble calling out the banks for failing to provide enough clear, useful information in search results.
Murrell said the bank is always looking at ways to improve search given it is likely to play a big role in the future of websites. "Search is going to be very rich and people will start to use images and video in search, so we want to keep up with the latest search developments."
Google launched the latest version of its Maps API Premier earlier this month including support for mobile browsers and custom street view imagery that allows business customers to use their own images overlaid on top of map pinpoints.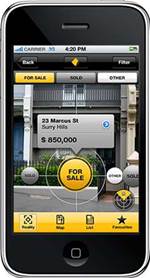 CBA's augmented reality app
The upgrade by the CBA comes on the back of its development of an Augmented Reality application for iPhone which sees data including past sales history, current property listings and recent sales, mapped on to a real world view through the iPhone's camera.
St George Bank recently launched a similar application called "Housefinder" which includes both Augmented Reality functionality and maps functionality to display information to users based on proximity to their current location or via a suburb or postcode search.
St George head of eDistribution Travis Tyler told iTnews the bank has received very positive feedback from customers about the Augmented Reality app.
"We think it's revolutionary in the way it helps with the house buying process."