Amazon.com has launched its cloud computing services in the Asia Pacific region with services being available from undisclosed data centres in Singapore as of today.
Amazon.com told iTnews the Singapore-based versions of Amazon Web Services (Enterprise Cloud Compute and Simple Storage Service) will provide Australian customers with lower latency times (ie better response times) than connecting to the AWS cloud compute in the United States.
Amazon.com senior vice president of web services Andy Jassy told iTnews that the Singapore facilities are a beachhead on a wider expansion plan (read the full interview with Jassy here).
The company has hopes of launching its own presence in Australia in the near future.
Amazon's pricing for the Asia Pacific region [see tables below] is in line with prices the company offers customers in Europe, which in some cases (such as on-demand instances of Windows servers) is actually cheaper than the same service offered from the West Coast of the USA.
The only sting in the tail is the price of data transfer out (sometimes referred to as "egress") - which is 4c per GB higher in the Asia Pacific, some twenty to thirty percent more expensive than Amazon services elsewhere in the world.
The cost of international traffic has been a common deterrent for some Australian enterprises from porting their apps to the Amazon cloud.
An import/export service, via which customers can mail Amazon.com physical disk rather than uploading their data onto the cloud via the network, won't be available from day one. But Jassy said it "will be available eventually."
Better performance
Jassy said many Australian customers that already connect with Amazon's EC2 and S3 services in the United States should enjoy better performance connecting to the Singapore cloud.
"You will see a similar latency [between Australia and Singapore] to what you would experience between the East and West coast of America," Jassy said.
"Remember that EC2 was only available to the East Coast of America for a very long time - but now most of our customers are on the West Coast, in the Bay area. But for a time, there were lots of workloads for which people are happy with that level of latency."
Why Singapore?
The Singapore service will be based in multiple data centres on the island in order to create an "availability zone" between separate facilities.
Salesforce.com and Microsoft (Azure) have also released cloud-based services from data centres in Singapore.
Jassy said the country was chosen on how many places it can serve from its data centre presence (Singapore is close to the big guns of Asia), the cost and robustness of infrastructure (some of the world's largest data centre builders, including Equinix, have built multiple data centres in Singapore), whether the right talent is available and the ease with which Amazon.com can work with the Government.
"We had to pick a country to start because we couldn't do them all at once," he said. "In the fullness of time we intend to have a number of countries.
"We are very interested in Australia - it has some very interesting businesses and we are very hopeful and optimistic about have a data centre presence in Australia in the near future."
Will Australian companies export to a Singapore-based cloud? Read the full interview with Jassy here.
ASIA PACIFIC PRICING
ON DEMAND
Source: Amazon
RESERVED INSTANCES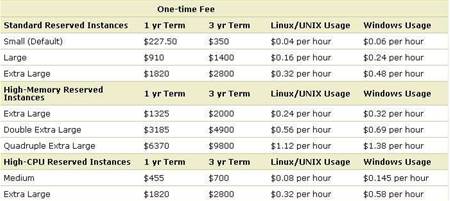 Source: Amazon
DATA TRANSFER PRICING
* Data Transfer In will be $0.10 per GB after June 30, 2010.
** Rate tiers take into account your aggregate Data Transfer Out usage across Amazon EC2, Amazon S3, Amazon RDS, Amazon SimpleDB, Amazon SQS, Amazon SNS, and Amazon VPC.
Source: Amazon.com
S3 - SIMPLE STORAGE SERVICE PRICING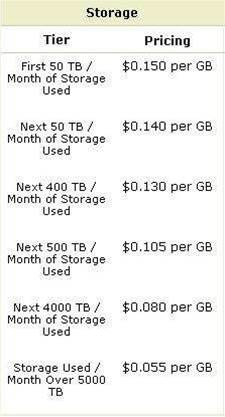 Source: Amazon.com