Alcatel-Lucent will pitch its tiny new lightRadio base station cube product in the first instance at telcos looking to deploy Long Term Evolution (LTE) mobile technology.
Australasian chief technology officer Ric Clark told iTnews that while there were no specific trial plans for lightRadio in Australia, the vendor's local office hoped to bring the cube technology into the country soon.
"We need to get on the priority list," Clark said.
"There is a lot of interest. The lightRadio roadmap of products will be released over the next two years with trials of the cube component starting soon.
"We expect a number of customers to be looking into it."
The lightRadio architecture broke the traditional base station into "its component elements and distributed [them] through the network", Alcatel said.
"Additionally the various cell tower antennas are combined and shrunk into a single powerful, Bell Labs-pioneered multi frequency, multi standard (2G, 3G, LTE) device that can be mounted on poles, sides of buildings or anywhere else there is power and a broadband connection," the vendor said.
The antenna device had been dubbed the cube by journalists this week. It was "about the size of an orange", according to Clark.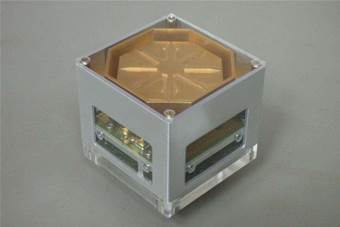 One advantage of the cube design was that many could be stacked together to make a more powerful base station site. The design also allowed multiple cubes to be serviced by a single piece of backhaul fibre.
In the same way, the cubes also could be attached unobtrusively to almost any site with power and backhaul, allowing carriers to avoid large cell towers that had attracted protests from residents over the years due to their size.
"It makes it a lot easier to add infill on street corners, power poles and building fascias in addition to existing infrastructure," Clark said.
"You just need fibre access and power for your cube.
"It's really aimed at small cells in high-density traffic and population areas."
Clark said that telcos did not need end-to-end Alcatel-Lucent equipment in their networks to deploy the lightRadio products.
He said that in the medium to longer term, telcos who adopted lightRadio would gain the ability to push some network control functions into the cloud.
"Then there'll probably be a tertiary stage where telcos can retire some of their older base station infrastructure [in favour of a lightRadio architecture]," he said.
More details of lightRadio were expected to be revealed to carriers attending the Mobile World Congress in Barcelona. The conference starts Monday.