Techies, sysadmins and support staff everywhere around the world got a real shock last week when remote access specialist LogMeIn canned its free alternative and asked users to stump up for the paid version.
While the majority of professional users remain undeterred, those using LogMeIn for ad-hoc purposes found themselves asking if there were comparable alternatives to consider.
Unfortunately, the answer seems to be "no", for now.
Once you start looking around for like-for-like alternatives, it becomes apparent that LogMeIn is actually a very good, complete remote access package that is sold at a reasonable price.
LogMeIn's proprietary protocol with network address translation (NAT) traversal does a good job of getting through firewalls on Internet connected systems using secure sockets layer (SSL) encrypted connections.
Mobile clients are available for iOS and Android devices, as is remote printing support and file sharing. LogMeIn thus became an easy choice for busy IT people needing a quick solution, often for ad-hoc scenarios where a permanent virtual private network (VPN) would either be too much work or not possible.
LogMeIn also offers audio support and handles high-definition remote graphics well. In other words, while you might not agree with the company's business model, the currently discounted US$49 a year subscription provides a solid product with a set of features that is hard to find in other software, especially if you go down the free route.
Annoying as it may be, your best bet may be to stick with LogMeIn and pay for the Pro version.
Nevertheless, we looked at some remote access solutions that provide similar features to LogMeIn such as audio, file transfers, NAT pass-through, and multiple sessions to the host computer. Here are some suggestions worth checking out:
TeamViewer
The closest thing to LogMeIn we've found is TeamViewer, which offers both Windows and Mac OS X clients.
TeamViewer is easy to install, seems to be able to get through even the tightest corporate firewalls and has all the features required for full remote access, including audio, file transfers, remote printing as well as meetings and collaboration.
Like LogMeIn, TeamViewer works well over residential broadband and overall, is very easy to live with.
So why isn't everyone using TeamViewer ? The price. TeamViewer is free for non-commercial use, but business customers are expected to fork out holy moly amounts ranging from A$849 for the cheapest version and going to A$3200 for the three-session corporate variant. Needless to say, that kind of pricing puts TeamViewer out of reach for many small business operators.
TeamViewer is a good product that would be even better if the commercial pricing was dropped to sensible levels.
If you don't need it for business purposes, by all means, TeamViewer is the way to go to replace LogMeIn Free.
Remote Desktop Connection and Virtual Network Computing
Whether you require a remote access solution might depend on the age of the client you're logging into. Over time, you might find you don't actually need a third-party remote access solution because chances are the operating system will come with one installed already.
If you can open up firewall ports and run new-ish versions of Windows on both network ends, Microsoft's Remote Desktop Protocol (RDP) may be a workable solution.
The Remote Desktop Connection (RDC) built into Windows - there's a free downloadable one for Mac OS X too - offer a good, feature-rich remote access experience with sound. If you're running Windows 8 and later, it also offers 3D graphics support. Microsoft has also published a version of RDC for Apple iOS devices and one for Android for the smartphone and tablet enabled admins out there.
RDC adjusts itself to the bandwidth available, cutting down on desktop eye candy and colour depth to match the capacity of the network connection. Generally it works fine, even over your average residential broadband service.
On the downside, there is a fair bit more to tweak with RDC. You may need to consider firewall reconfiguration, client settings, maybe even tunnelling all the traffic over a VPN so you don't need to sleep with one eye on the intrusion detection system and user authentication.
Either way, RDC is ahead of Apple's remote access solution which, while updated for the latest Mavericks operating system, misses out on important features such as sound and NAT pass-through.
Apple has decided to go with the open source Virtual Network Computing or VNC for building its remote access solution, and it comes with pros and cons.
Pros include several clients and servers (free and paid) with decent feature sets. However, the features lag behind other remote access solutions, with several deficiencies in the areas of graphics and audio handling.
If you can live with the limitations of VNC, there are good third party alternatives such as UltraVNC which is aimed at Windows, and there are plenty of paid options around too.
Again, you'll be looking at securing the connection, firewall configuration and other tweaks that'll likely eat into any savings you thought you were banking from avoiding paying for a LogMeIn license.
Remote access via the cloud
Remote access and VPNs are totally necessary for networked computing in 2014, and it is unfortunate that it is so awkward to actually do that third-party workarounds like LogMeIn are required.
It's worth remembering that remote access clients plug holes in the feature sets of operating systems. Arguably, the likes of Microsoft and Apple could easily deliver LogMeIn-like ease of use and functionality if they wanted to.
However, users have waited for years for this to happen and been forced to resort third-party remote access solutions.
A start-up called Pertino is attempting to rethink how remote access is done, by moving it to the cloud.
The idea is to create a virtual private cloud network with access to files, applications and remote devices as if they are connected to a LAN.
No configuration is needed even for mobile users, just registration on the Pertino website and a small app to download on each device.
Pertino's basic offering is "free forever" and lets uses connect up to three devices. Connecting more devices costs money, starting at US$29 a month or US$290 a year for ten devices under the basic subscription.
For now, only Windows 7, 8, Server 2008 R2 and 2012 are supported in Pertino along with Mac OS X 10.7 - 10.9 (Mavericks). Ubuntu 12.04, Android Jelly Bean and iOS.
Windows Vista and XP support are in the works, Pertino says.
While Pertino is still in its early stages, a test drive by iTnews shows the idea is elegant and does away with many remote access bugbears such as configuring firewalls and network settings. The tunnel server is hosted on Amazon's AWS so for most Australian and NZ users, Pertino is a short distance away in Sydney.
It's possible to have several different VPCNs and users in Pertino, all easily managed through a web-based dashboard.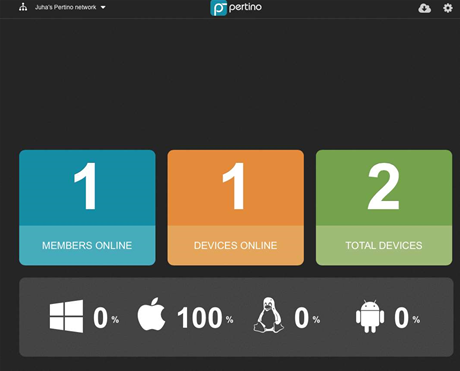 Pertino is also building an app store to extend the service offering. Currently, there's only one third party app, a GeoView mapping app, that displays the physical location of devices for Pertino network admins - a very useful feature.
Cloud services may not be the right answer to every situation - the big issue being that you trust a cloud based supplier with access to your devices - but if that's not a major concern, Pertino is exactly what pressed for time admins and users might be looking for.
Have you found something as good as LogMeIn Free or even better? Please share your insights in the comments section.