With tethering controversies, device shortages and now its very own virus, one would have to say 2009 was the year of the iPhone explosion.
Apple's iPhone now accounts for 17.1 percent of smartphone sales worldwide, according to Gartner's Q3 2009 market figures.
Despite Australia's generally overpriced and underpowered mobile data networks, local firms have developed some of the world's best mobile applications. Aussies have embraced the iPhone and local developers have produced a wide range of useful, entertaining and popular apps.
Some target the local market with apps that let you find out about the weather, what's on TV, or how much you can download before you hit your ISP's quota. Others have set their sights on the world with games, productivity applications and useful guides.
Here, in alphabetical order, are six locally developed applications making waves in their respective fields.
Documents 2
Price: $4.99
Developer: SavySoda, Melbourne
One of the major frustrations for many iPhone users is the relative difficulty and fiddliness of transferring, storing and viewing office documents on a supposedly smart phone.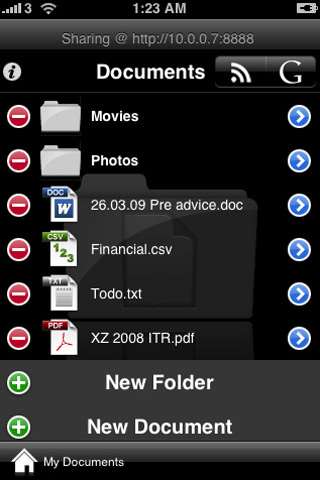 Documents 2 from Melbourne-based developer SavySoda allows you to store, view and edit common formats such as Excel spreadsheets and Word documents.
It also allows you to use the iPhone as a mobile hard drive and transfer documents by Wi-Fi or directly to your Google Docs storage. You can use it to view PowerPoint presentations, images, Adobe PDF documents and audio files.
Read on to page two.