IBM has inked a multimillion dollar partnership with the University of Melbourne to set up a laboratory for life sciences research.
The laboratory is part of the $100m Victorian Life Sciences Computation Initiative (VLSCI), which was established in 2008 and funded in part by the Victorian Government.
As part of the partnership, IBM will provide a Blue Gene/P supercomputer, which can be configured to reach speeds in excess of 3 petaFLOPS (FLoating point Operations Per Second).
The VLSCI supercomputer will be established in stages, with the aim of building to a system of over 800 teraFLOPS by 2012.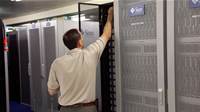 Vayu loses its 'fastest supercomputer' crown after just 4 months
It will replace ANU's 140 teraFLOP machine as the most powerful in Australia.
IBM will also provide six on-site staff who will act as conduits to IBM's network of computational biology resources in Australia and in the Watson Research Center in the US.
Professor Peter Rathjen, Deputy Vice Chancellor (Research) at the University of Melbourne said: "This will place the VLSCI within the top five life sciences computing facilities in the world by 2013."
"Through the partnership, we will be better placed to fulfill the VLSCI's mission to revolutionise computational drug discovery for diseases such as HIV-AIDS, hepatitis C, breast cancer, prostate cancer, Alzheimer's disease and epilepsy, and ultimately to provide personalised medical treatment based on inherited genetic makeup."
For IBM, the new facility will allow the company to reach some 10,000 researchers across a range of institutes, allowing it to increase its expertise in computational life sciences.
"It's not just a commercial decision; it really is about doing research in the marketplace," Glen Wightwick, director of the IBM Australia Development Laboratory and IBM Australia's CTO.
"We need to participate and collaborate and to have access to these [researchers'] capabilities and skills to help advance computational life sciences," he told iTnews. "We sort of think about it as 'the world is our lab'."