The chief information officers at Australia's two largest banks have delivered starkly contrasting visions on cloud computing, with the Commonwealth Bank adopting a bullish and progressive stance on the technology and Westpac retaining a more traditional, risk-averse approach.
Commonwealth Bank Group CIO Michael Harte and Bob McKinnon, group technology executive at Westpac, discussed cloud computing at a recent forum organised by law firm Gilbert and Tobin.
At stake for both organisations is the potential for huge cost savings on IT infrastructure set against the substantive risks of adopting cloud services, loosely defined as "the provision of applications and infrastructure on a commodity basis, in a model akin to how customers purchase services from utilities".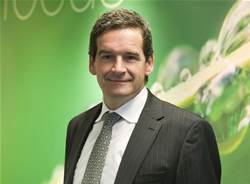 CBA Group CIO, Michael Harte
Harte: The cost lever
Harte said the Commonwealth Bank wants to use the cloud computing phenomenon to drastically drive down the price of IT services offered by the major vendors.
The CBA group CIO is actively involved in several end-user forums aimed at creating standards and portability between cloud platforms.
Banks are suffering from "lousy returns on equity", he said, and are being asked to review operating costs. IT infrastructure makes up around 15 percent of those costs, he said.
"At the same time, customers are demanding richer, online, real-time experiences," he said. "So IT has to be managed for value – we have to get out of infrastructure and deliver on value. The opportunity for cloud computing is that you free up infrastructure costs."
"The sell-side has to help us do that," he said. "That's the only way to keep these costs down. We have got to work with technology providers to help us reallocate the cost of computing."
But Harte said the vendor community has been slow on the uptake. Enterprise buyers are "challenged by a willingness on the supply side to move the cloud faster," he said.
"The hardest thing is forcing the vendors to change."
Beyond the development of standards, Harte said the economics of cloud computing "can only work where there is portability."
"We can standardise and commoditise," he said, "but without portability there is no contestability, and there is always the same old game of vendor lock-in.
"We no longer want to pay maintenance fees for things that aren't maintained," he said. "We don't want to pay for broken code."
Westpac Group technology executive, Bob McKinnon
McKinnon: Maintaining control, managing risk
But Bob McKinnon, effectively the CIO at Westpac, said his organisation was "a long way from buying all our services from the cloud."
He said he felt cloud computing was an evolutionary step from outsourcing rather than something revolutionary, like the advent of the internet.
The orchestration and integration layers of today's cloud computing services were not complex enough for the enterprise, he said.
And organisations like Westpac would be reticent to let go of their role as technology integrators, he said.
"We are likely to want to control the orchestration layer ourselves," he said. "We would want to be the integrator. We would want to make sure we are in control."
Addressing Harte's efforts on standards, McKinnon said he was not holding his breath for vendors to reciprocate and come together to agree on standards and reduce lock-in risk for enteprise buyers.
Expecting suppliers to do so was like "living in cloud cookie land" -- "our expectations are that standards are some way off," he said.
McKinnon stressed that security was a major issue when considering cloud services.
"Data theft is now the third leg of organised crime," he said. "They are really effective at it and can afford to buy the brightest PhD's to write code. It is extremely scary."
Managing risk, he said, remains "the biggest roadblock to Michael's (Harte) dream of on-demand computing.
"The biggest risk is a commercial risk to the supplier - that you build this infrastructure and nobody comes," he said. "So in the Australian context, the market is not big enough."
And on the the buy-side, he said it was appropriate that financial services regulator APRA should step into the cloud debate, as the risks around privacy, data sovereignty, and the ability to recover from a disaster are considerable when customer data is hosted offshore.
McKinnon said that when one takes geo-political risks into account – such as privacy laws and data sovereignty, "you quickly find the commercial risks take over the discussion."
Suppliers are not prepared to build cloud infrastructure in Australia with enough scale for the banks while ever regulatory and security concerns define that the only customers for such a service must be within national borders.
As a result, "it's unlikely anybody in Australia could provide the scale that banks require," he said.
But CBA's Harte said that enterprise IT buyers should not be deterred by security fears.
"We have never regarded security as anything other than vital," he said. "As a bank, trust is our very value proposition. But I wouldn't pay too much heed to the rhetoric from vendors that we shouldn't go there [to the cloud] because it's very scary.
"You can't hide behind security as a reason not to do it."
Harte conceded that even those SaaS providers pitching at the enterprise – such as Salesforce.com – did not yet have the data migration or security tools in place to win his business. But that might not preclude the bank from using such services.
"[Salesforce.com] don't have a guaranteed data migration path," he said. "But if it's one tenth the price of a Siebel system, and you have to add back 20 percent of the cost to build a data migration regime yourself, it's still cheaper.
"We have to advance this disruptive technology to put a bit of heat on the fat happy incumbents. My message to buyers in the room – bargain hard.
"Ask your lawyers for a clause that says – if you are not supplying me with cloud pricing and some alternative comes along, you have to provide me with that same pricing.
"I am urging every responsibly-minded person to put pressure on suppliers. They need to move faster," he said.
Harte was asked – with McKinnon's scale dilemma in mind – whether he expected any providers to build cloud computes of scale in Australia.
"I hope so," he said. "It will be pretty boring otherwise. IT is boring enough as it is."
What are the missing ingredients? Read on for a frank assessment of enterprise options offered by Telstra.