Supermarket giant Coles has entered the final stretch of a high availability project that will see the final 200 supermarkets migrated across to a new IT platform this year.
The retailer is replacing ageing server infrastructure at its 741 supermarkets nationally with Fujitsu server hardware that runs a Microsoft stack with Hyper-V.
The new platform was piloted in April last year before being rolled out to 550 supermarkets by the end of last year.
Each supermarket will still host two physical servers on-site. However, the new server and component configuration provides additional flexibility and redundancy not possible in the previous environment.
The new platform is designed to withstand the failure of any single component.
It allows Coles to move virtual machines between the two physical host boxes in the event of a hardware failure or patching exercise.
Standby copies of virtual servers are also stored on the server's own disks, meaning the virtual machines can run locally if the storage array fails.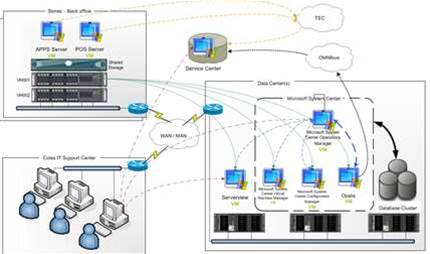 The two physical host servers in each supermarket run a minimal install of Windows Server 2008 - Server Core - with the Hyper-V hypervisor.
Virtual machines sit on top of the hosts for applications such as proprietary replenishment and inventory management programs as well as point-of-sale systems. These were previously hosted on separate, physical servers.
Coles is taking advantage of a large number of components within Microsoft System Center that sits in its central data centre to manage its mixed physical and virtual environment.
Not all of Coles' IT environment uses Hyper-V. The retailer has been running VMware ESX at its corporate headquarters since 2000, although that could change in the future.
"As we prove Hyper-V to be the best solution for our store environments, we will consider using Hyper-V in our corporate offices, too," Coles infrastructure services and operations general manager Ken Harmsworth said.