Centrelink is attempting a world first with its $4.9 million investment in a 'staging facility' at the Canberra Data Centre (CDC) - kitting out a modular pod with six mainframe-sized servers.
Centrelink has taken out a two-year lease on two pod spaces at the CDC in Hume to meet its expanding data processing needs while the Federal Government finalises its plans for a whole-of-Government data centre strategy, as recommended by the Gershon report.
The staging facility is, according to Centrelink CIO John Wadeson, the first time an Australian Federal Government agency has used a pod data centre configuration.
The modular pod-based data centre, popularised by the likes of Google [video], involves the use of standardised building blocks that provide all the necessary power and cooling requirements - bringing new levels of modularity and mobility to enterprise computing.
While the likes of Google And Datapod use ISO shipping containers to achieve this mobility, the pods at the Canberra Data Centre are simply laid out on the floor into zones of between 50 and 70 square metres, each of which can support anywhere between 2.5 to 15kw per square metre using such techniques as in-row cooling.
The pod racks and cooling in the CDC are supplied by APC.
"We are doing things inside these pods that have never been done before," Wadeson told iTnews.
Data centre pods usually house the latest generations of highly dense x86-based modular servers.
One of Centrelink's two pod spaces at the CDC is used in such a way - it is an area with 160kw worth of x86 blade servers and supporting infrastructure in twenty 42RU (rack unit) capacity racks.
But in what Wadeson calls a "world first", Centrelink will custom fit up to six beastly Sun M9000 mainframe-sized enterprise servers in the second pod space it is leasing with the CDC.
The M9000 (pictured below) was designed by Sun Microsystems as the 'mainframe killer' - a Solaris-based enterprise server kitted out with up to 64 dual-core SPARC64 VI processors and up to 2 terabytes of memory.
Prior to its recent investment in virtualisation, the average size of a Centrelink server was a Sun Fire V490 with 32 GB of Memory and 4 X 1.35 GHz CPUs.
Centrelink is now migrating to Sun's enterprise M9000 servers - the first of which contained 56 X 2.4 GHz CPUS's (Dual Core) and configured with 1.7 TB of Memory. The most recently purchased M9000s were Quad core System boards (64 Quad Core CPUs).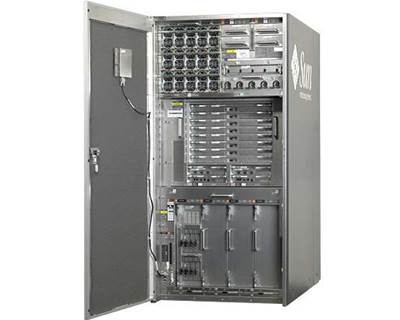 The Sun M9000 (source: Sun Microsystems)
"Given their particular configuration, power and cooling requirements, Centrelink has had to work with CDC, Sun Microsystems and [power and cooling vendor] APC to develop a world-first customised pod configuration for this purpose," a technical spokesperson for Centrelink told iTnews.
The cooling at Centrelink's staging facility includes a combination of hot aisle containment, dynamically allocated in-row cooling, closed loop chilled water and free air cooling.
In an extensive interview with iTnews, Wadeson said Centrelink was running very close to capacity at its existing facilities in Bruce and Tuggeranong prior to investing in a staging facility at the CDC.
Existing facilities were "pretty much full," he said.
"And more importantly, we had little power left to work with at our existing facilities," he said. "We simply had to have another facility."
Wadeson said he feels the $4.9 million investment at the CDC represents great value for money.
"This is good quality data centre space," he said. "With Centrelink, a failure in a data centre would cost a lot more than that in one night!"
Read on for an extensive interview with Centrelink CIO John Wadeson.