IT education provider Excom Education has closed its doors.
Vendor partners have reported that they were contacted this morning to be told the company planned to appoint external administrators.
Excom staff have told iTnews they have been told the company would appoint external administrators at 4pm today and that their wages and entitlements would be paid in full.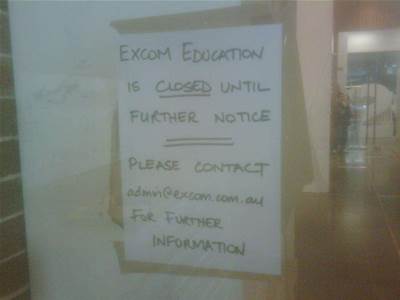 Sign on the door at Excom's Sydney office (photo: Brett Winterford).
Calls to the company's Sydney, Canberra and Brisbane offices were being switched to voicemail, while calls to its Melbourne office rang out.
The phone numbers for internal marketing staff were cut off. The founder of the company is yet to respond to our reporters' phone calls. Excom's Operations Manager refused to comment.
The Excom website appeared to be shut down around 2.30pm Sydney time.
Related
Readers emailed iTnews today after Excom staff told them courses were cancelled.
Rival Dimension Data Learning Solutions has already offered to place students impacted by Excom's financial woes free of charge.
Long history
Excom has provided IT training courses in Australia for some 15 years, with offices in Melbourne, Sydney, Brisbane, Canberra, Adelaide, Perth, Auckland and Singapore.
The company was founded by IT trainers Paul Koukounaras and Graeme Newey.
The company offered vendor certification around the technologies of Cisco Systems, Citrix, Microsoft, Novell and VMware, as well as courses on Linux, ITIL processes, service desk, IT security and PRINCE2 project methodology. It recently introduced courses on Green IT.
The company was best known for its Express IT program, which offered a 100 percent guarantee of placing IT graduates in some form of work within four months