Microsoft has lowered the rates for its Azure cloud storage by one cent, meeting Amazon Web Service's S3 at 14 cents per gigabyte (GB).
The new price tiers for Azure Blob and Table storage introduced by Redmond last week offer larger discounts for higher volume customers, and creates a different model to the marginal rates applied by Amazon.
Microsoft offers customers that store 400 terabytes in its cloud a discounted 12 cents a gigabyte rate for the total amount of data, whereas Amazon applies a graduated pricing schedule where customers pay one rate up to a limit, after which a lower rate is applied to the next block of data.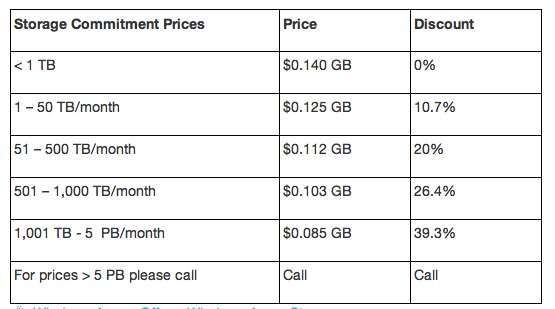 Microsoft's new pricing brings it much closer to Amazon Web Service's S3 storage, but still remains slightly more expensive at the high end.
For example, storing 500 TB on Amazon S3 would cost US$55,000 per month for US customers, while Microsoft would charge US$56,000 per month.
Customers that hit the one to five petabyte (PB) bracket on Microsoft Azure will receive 39.3 per cent discount on the 14 cent rate, bringing the rate to 8.5 cents per gigabyte.
Customers with of storage demands above 5 PB will need to contact Microsoft for separate pricing.