The Australian Federation Against Copyright Theft has voiced concerns that AAPT's unlimited off-peak broadband plans could promote illegal movie downloads.
AFACT executive director Adrianne Pecotic told iTnews the federation had sought clarification from Australia's third largest telco over its position on illegal downloading following the airing of a national television commercial promoting the unlimited plans.
"The circumstances of the advertisement can be misconstrued and our concern is that, in the context of the advertising, AAPT have said your teenagers can download as many movies as they want overnight without any clarification," Pecotic said.
"They [AAPT] need to make [it] clear that the movies should be sourced from legitimate sites and that they are not encouraging illegal downloads in the context of their promotion.
But an AAPT spokeswoman told iTnews that the telco "[does] not in any way condone illegal downloading.
"In our television advertisements we clearly state that AAPT does not condone such practices," she said.
"At about the 10-second mark on the Unlimited Broadband 30second television commercial, [the words] 'AAPT does not condone illegal downloading' appears along the bottom of the screen."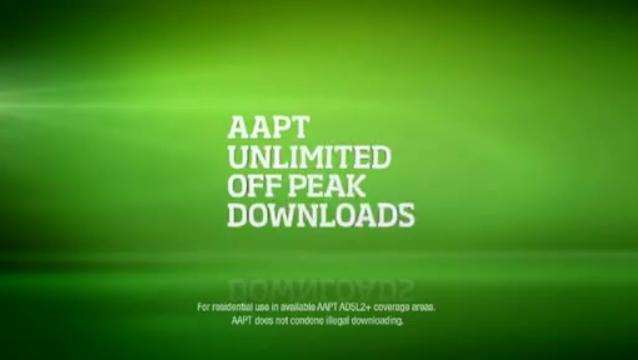 "Customers can also view our official Copyright Policy and Acceptable Use Policy on our website which specifically states that customers may not store, send or distribute confidential information, copyright material or other content which is subject to third party intellectual property rights, unless they have a lawful right to do so," the spokeswoman said.
Pecotic did not believe AAPT had "misconstrued" its advertising intentionally.
But she said it was important "in the context of providing broadband plans and schemes that ISPs make it clear to their customers that they should not be involved in illegal downloading."
AFACT is representing the film industry in a case against ISP iiNet in the Federal Court that attempts to hold service providers responsible for any illegal downloads on their networks.
In documents filed with the court, the federation claimed a link between ISP iiNet upgrading the service plans of heavy-internet users and the proliferation of film piracy, but was unable to elaborate due to a court order.
The case is due to begin on October 6th.