Australia's competition watchdog will split two large NBN points of interconnect in NSW and Queensland and expand or relocate several others in a revision announced today.
Points of Interconnect (PoIs) are places where NBN traffic is handed over from NBN Co to an ISP network.
The revisions were made following a consultation with telcos and ISPs including Telstra, Optus, Nextgen, Internode and AAPT.
Mega PoIs
Two of the larger PoIs revealed by the ACCC in December have now been split in half.
One of those PoIs – at Mayfield, a former industrial suburb west of the Newcastle CBD in NSW – has gone from servicing 19 fibre serving areas (FSAs) and 162,619 premises to 12 FSAs and 82,350 premises.
The shortfall – 7 FSAs servicing 80,269 premises - will be picked up by a new PoI to be located in the Hunter regional town of Maitland, about 27 kilometres to the north-west.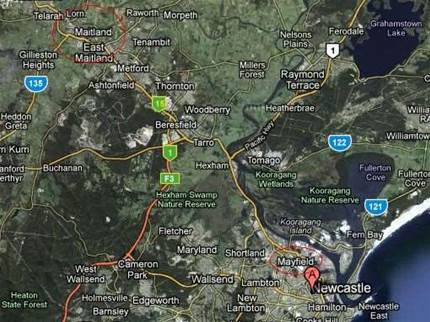 Rockhampton's very large PoI would also serve less premises under today's revision.
Where it had been slated to service 25 FSAs and 131,227 premises, it would now service 14 FSAs and 69,212 premises.
Again the shortfall appeared to be exactly covered by a brand new PoI to be located some 335 kilometres away in Mackay.
What happened to Wangaratta?
Plans for one of the smallest PoIs in the network have been completely canned.
Premises that were to have been connected to a PoI at Wangaratta in regional Victoria will now be connected to a range of PoIs spread across two states.
An analysis by iTnews - confirmed by ACCC - reveals the lion's share of the affected FSAs (fibre serving areas) will be serviced out of greatly-expanded PoIs at Shepparton and Albury.
Wangaratta had been slated to service 18 FSAs and 46,650 premises.
Eight of the displaced FSAs (18,816 premises) will be serviced from an expanded PoI in the border town of Albury, about 73 kilometres away from Wangaratta. An ACCC spokesman told iTnews at least some of these premises were actually based in NSW.
Another 6 FSAs (12,200 premises) have been added to the old Shepparton PoI, which now goes by the name 'Shepparton-Mooroopna'.
The remaining four FSAs will be routed through PoIs in Bendigo and as far afield as the outer edge of Melbourne's metropolitan area.
Specifically:
Bendigo picked up two of the FSAs, bringing its total number of premises serviced to 100,850.
Croydon picked up an extra FSA, adding approximately 5,620 premises to its control.
South Morang also picked up an extra FSA, adding 1,852 premises.
Although telco submissions had contributed to the decision to can the Wangaratta PoI, the ACCC spokesman said the decision was based partially on proximity of FSAs to existing backhaul routes.
Wangaratta also appeared to be a victim of NBN Co's original proposal for 14 aggregate PoIs in capital cities not being accepted by regulators.
"Part of original driver for PoI locations was the assumption that backhaul would always be to the mainland state capitals," the ACCC spokesman said.
"[Wangaratta is] slightly different because it is so close to the NSW border which is why it wasn't quite clear in the initial design that 18,000 [of the premises to have been served] should be in Albury [NSW]."
Re-locations
Four of the PoIs announced in December have effectively been moved down the road to new locations.
These included:
Cranebrook – in Sydney's west. Moved to nearby Penrith.
Shalvey – in Sydney's north-west. Moved to nearby Windsor.
Ashmore – inland from the Gold Coast. Moved to nearby Nerang.
Armadale – in outer-metropolitan Perth. Moved to Kelmscott.
iTnews' analysis revealed all new PoIs serviced exactly the same number of FSAs and premises as those nearby that had been dumped from the locations proposed by the ACCC and NBN Co in December.
Name changes
Apart from Shepparton – which picked up the name of nearby town Mooroopna in its PoI title – there were two other minor name changes.
Nowra on the NSW south coast had nearby town 'Bomaderry' added to its PoI title. In addition, Berwick in Victoria was now known as 'Berwick South'.