AAPT has shrugged off concerns about its "unlimited" broadband plans in the wake of a Federal Court case lobbed at rival Optus for the use of the word "unlimited" in its phone plans.
Optus will face court June 25 for offering "unlimited calls" on its $70 Turbo Max plan, which is limited to 3000 minutes of call time.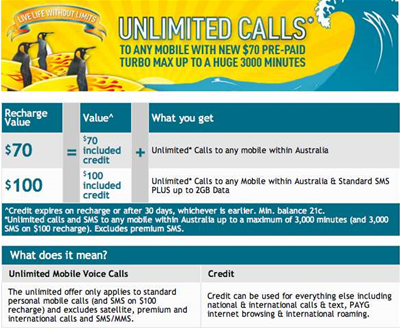 An Optus advertisement
Optus rival AAPT also offers an, "unlimited" plan - albeit for broadband rather than telephony minutes. The company offers a $99.95 per month broadband bundle of "unlimited" ADSL with no throttling, phone line rental and access to an EMI legal music library service.
A spokesman for AAPT reiterated today the company can stand by its advertised claims.
"We're not concerned about the ACCC's proceedings against Optus," the spokesman said. "We're very upfront in our marketing about what we're offering, so consumers clearly understand what they're buying.
"For example, our 24/7 Unlimited Broadband offer is exactly that: unlimited uploads and downloads, without caps or throttling.
"We haven't received any feedback from the regulator suggesting our advertising of this plan is misleading."
Telecommunications carriers are governed by the Telecommunications Consumer Protections Code [PDF], which is highly prescriptive when it comes to advertising plans - right down to font sizes.
"Where a Supplier uses the term "unlimited" or an equivalent in its Advertising Material, it must ensure that it identifies which elements of the offer are "unlimited" and states any other conditions that may qualify the offer," the code states [4.1.6].
Carriers can include a disclaimer against claims of "unlimited" use, the code states, but it "must be clear and readily understandable" [4.1.3].
In printed advertisements, an ad up to 50cm squared must include the disclaimer in at least 6 point font size (assuming Times New Roman as a standard font), 8 points if the ad is between 50cm squared and A4, and 10 points A4 or larger.
Disclaimers on billboards "must be sufficiently clear and prominent to a person who is able to view the entire billboard", whilst a verbal disclaimer on a television or radio ad must be "stated at a speed and volume capable of being comprehended by the average listener."
Optus has been contacted for comment.