The era of pay-as-you-go desktop computing is here, and unsurprisingly, Amazon's at the forefront in with its recently launched WorkSpaces offering.
Does it stack up as a full replacement for a traditional desktop? Not quite, as we discovered during the review, but it could very well do so in the future.
Amazon offers four different WorkSpaces variants, with and without bundled software: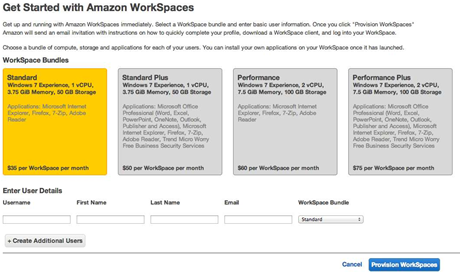 We tried out the top of the line offering, the Performance Plus bundle with software.
This costs US$75 (A$80) a month in total and buys a system with two virtual processors, an oddly uneven 7.5 gibibytes (Amazon uses the International Electrotechnical Commission unit instead of gigabytes) of RAM, and 100 gigabytes of user-accessible storage on the D: drive.
Performance Plus comes with a decent office productivity software bundle that Amazon values at US$15 a month: MS Office Pro 2010, Adobe Reader for PDFs, two web browsers (Internet Explorer 9 and the latest version of Mozilla Firefox), and Trend Micro provides anti-virus and other security services for users.
If this isn't what you want for users, there are empty - and cheaper - WorkSpaces virtual machine options on which it's possible to customise the software bundle to be deployed.
Amazon does not restrict which software can be installed on WorkSpaces, but this is of course limited by the operating system used for the service: Windows Server 2008 R2 with remote desktop services.
Blame Microsoft's licensing weirdness for this. Users see a Windows 7-ish desktop, without the eye candy but most of the features that operating system comes with.
By and large, this means that most software that runs on Windows 7 and earlier variants will run on WorkSpaces too. There are exceptions however, so check the requirements of your application before committing to WorkSpaces.
One gotcha with WorkSpaces is that bandwidth charges apply. These can be complex to track, unfortunately. Connecting to services in the US, we found the cost isn't exorbitant for moderate levels of use. We can't be sure the same will apply should the service be hosted in Australia.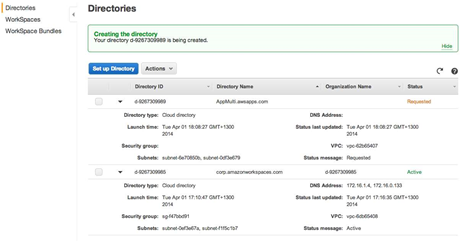 Setting up the WorkSpace using the basic Amazon directory and networking information is quick and easy. WorkSpaces can also make use of an organisation's existing Active Directory domain, which entails more involved configuration on the network side.
We set up WorkSpaces with the Amazon directory, using the web management interface that's clear and easy to understand. Billing is handled via Amazon's web portal, which provides a detailed view of costs.
There are further some deployment planning caveats to consider with WorkSpaces: admins have a limit of 20 WorkSpaces per account and region currently.
A limit of one user per WorkSpace is also in place, meaning the service isn't nearly as flexible in terms of scale as traditional desktop deployments.
These limits can be raised if you ask AWS nicely, but there's no indication currently how much it will cost and how far you can go.
Once configured, AWS takes about 20 minutes to provision and deploy the WorkSpace. When it's done, an email with a registration code to activate the service, plus log-in details, is sent out to users, who can sign in without Amazon accounts.


Users are set up with full local admin privileges by default in WorkSpaces, which [luckily for admins] can be changed through Group Policy.
To access the WorkSpaces desktop, Amazon provides clients for Windows, Apple OS X and iOS as well as Google Android. They are easy to install with small downloads, and no configuration required.
The iOS and Android clients are worth a separate mention, being nicely coded to translate the touch screen interface into a mouse and keyboard driven usage scenario.
Far far away
As the WorkSpace was being deployed, we noted that it would be hosted in Oregon on the US west coast, and not in Sydney.
Amazon warns that if you're further than 3200 kilometres away and have more than 250 millisecond network latency, WorkSpaces might not be all that responsive.
That said, we were 12,000 kilometres away from Oregon on a 30/10 megabit/s VDSL2 connection and found WorkSpaces perfectly usable. And as of this morning, this reviewer has learned that AWS will launch WorkSpaces in Australia before the end of June 2014.
The Office apps ran surprisingly smoothly with the lag between keystrokes and mouse clicks being tolerable, regardless of our distance. High definition video plays back with audio in sync (yes, sound works and the WorkSpaces client can use the microphone), albeit with some frames being dropped.


That said, forget about desktop-as-a-service or hosted VDI without a good network connection that has good upstream speed. Local data is uploaded to the Amazon cloud with a sync tool. Being so far away geographically, big files took a long time to transmit with a mere 10 megabit/s upload bandwidth.
Amazon provisions two virtual network adapters for WorkSpaces, each at one gigabit per second.
Testing against various hosts outside AWS in the United States showed that you can expect around 250 to 300 megabit/s downloads, which as an aside makes use of a US version of WorkSpaces an interesting way to bypass geoblocking of content.
Uploads, however, seem to be capped at 30 megabit/s. We can only speculate this is because Amazon wants to restrict the ability to run servers, or more likely for security reasons (to prevent WorkSpaces instances being used in denial of service attacks for instance).
User data is backed up every twelve hours, applications are updated automatically (Windows Update can be set to do so manually), and WorkSpaces are easily managed through Amazon's web interface.
Windows Server 2008 R2 asked to update Internet Explorer to version 11, which we let it do, and discovered that rebooting WorkSpaces after installation takes over ten minutes which is disappointingly slow.
Reconnecting to WorkSpaces sometimes failed, as Amazon's client hung on OS X. But other than that, things were looking good. WorkSpaces was stable and apart from the occasional delayed response, you could work with it almost like a normal desktop.
Then, we noticed some crucial problems WorkSpaces, read on for more...