A new version of Apple's iOS operating system is upon us and in most cases, whether we like it or not, it will be installed on client devices.
iTnews took a closer look at what's involved in the iOS 7.1 upgrade and found some very worthwhile changes.
Administrators looking after large numbers of iPhones and iPads will be interested in the new mobile device management (MDM) options, as part of a new Profile Manager in OS X Server 3.1 which is still in the preview stage.
There is now a web-based set of deployment programs for organisations that are also available for Australia, featuring a device enrollment option.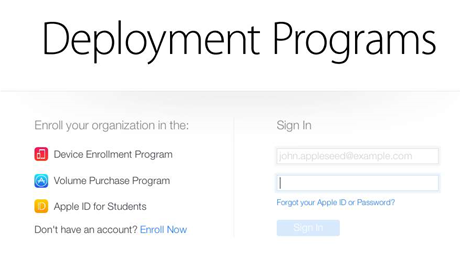 Zero-touch configuration is now offered with Apple's MDM, as is remote supervision of devices, a better set-up assistant and improved security - it is now harder to get around supervised profiles and to access prohibited content, for instance.
The new features make it easier to deploy iOS devices on a large scale for business, and also provide better control for admins to keep corporate data safe.
Interface polish
Apple has softened the hard, flat user interface of iOS 7 in the new version, and buttons now look like buttons and not just text links.
The result is pleasing, and tweaks to the Notifications Centre mean if you bat away a notification on one device it won't appear on others.
Accessibility has also been improved with bold fonts for the keyboard, some icons and the calculator. Interface animations can also be reduced to minimise ill effects on more sensitive users.
Performance boost for iPhone 4
Version 7.1 seems to bring some relief to iPhone 4S users that have been overwhelmed by iOS 7, and makes the device usable again.
We were unable to test iOS 7.1 on the iPhone 4, but Ars Technica did and found it's a worthwhile upgrade for the older model.
On the newer iPhone 5S and iPad Air, iOS 7.1 is a tiny bit more responsive overall than the older version of the operating system, but it's a very slight difference.
This is borne out in benchmarks, with both Geekbench 3 and Rightmark reporting very similar figures to earlier tests, indicating Apple has done little performance optimisation work in iOS7.1.
Security holes plugged
Like its predecessor, iOS 7.1 has fixed the "gotofail" Secure Sockets Layer/Transport Layer Security issue - which allowed attackers to bypass certificate verification completely.
That's not the only security improvement in iOS 7.1: a total of 24 issues are listed by Apple as being fixed, affecting many parts of the operating system from the kernel up.
Does this mean iOS 7.1 has sorted out all the current security worries? Probably not, unless Apple has quietly achieved software development perfection.
However, if the jailbreak community is any measure, Apple may have managed to plug a bunch of security holes used to easily gain root (superuser) access to iDevices.
The evad3rs gang of hackers behind the evasi0n7 jailbreak have been very quiet on iOS 7.1; one of the crew members, pod2g, spoke to International DigitalTimes and said the team may in fact ignore iOS 7.1 and wait for version 8 instead, which is expected to appear later this year.
Whichever way it goes, evad3rs received no fewer than four kudos from Apple's security team, which credited them for reporting vulnerabilities.
Siri goes Strayan
One of the more subtle updates in iOS 7.1 is the changes to Australian female and male voices for Siri, Apple's voice recognition technology.
Apple claims the new voices are "more natural sounding", and there is indeed a slight twang to them...but they're not instantly recognisable as Australian.
More useful is the ability to hold down the home button when dictating to Siri, and then releasing it to let Apple's virtual personal assistant know that you've stopped talking to it.
Faster fingerprinting
TouchID, Apple's fingerprint sensor authentication technology, has been updated, and seems more accurate and faster in iOS 7.1 than earlier versions.
This is great news because after you use TouchID a few times, having to type in a lockscreen PIN or passphrase is just plain annoying.
That said, some iPhone 5S users are complaining about disappearing stored fingerprints and not being able to enter new ones after upgrading to iOS 7.1. We encountered no problems during the upgrade and have been unable to replicate the problem.
Beyond unlocking the phone and authenticating users for Apple's iTunes, App Store and iBooks, iOS 7.1 doesn't bring any new uses for TouchID such as Samsung's recently announced mobile payments system in partnership with PayPal.
CarPlay coming
Apple's new CarPlay interface for iDevices in cars is now included in iOS 7.1. We would've loved to give it a spin, but sadly, it requires a CarPlay enabled vehicle.
It's a pity CarPlay can't be used in ordinary vehicles as well, unlike many Android phones that offer a larger interface for drivers that is easier to use on the road.
Perhaps there will be hands-free kits for iPhones and iPads that are CarPlay compatible, but we haven't heard of any yet. iTnews has asked Apple for further details.