December 10
1645: Compuware says its CloudSleuth performance monitoring service saw a 58 percent rise in response times on Amazon Web Services owing to DDoS just before it kicked Wikileaks from its servers, a degradation the software maker said was responsible for the cloud provider's decision. Soon afterwards, US senator Joe Lieberman claimed credit while Amazon pointed to unnamed service violations for its decision to turn off the whistleblowers' site.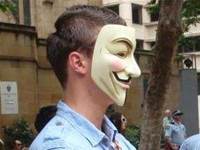 "Anon" protester at today's Sydney Wikileaks rally. photo: Ry Crozier


1530: Speakers to the Sydney Wikileaks rally today heard calls for Assange to be awarded Australian of the Year for his "investigative journalism". Photo gallery.
1400: Sydney Wikileaks supporters heard from Greens, leftists, WL Central editor Asher Wolf and Keith Dodd, a US IT professional about their concerns for Julian Assange and the whistleblowers' website. Before up to 1000 protesters, NSW Greens MP David Shoebridge ridiculed the Australian Establishment for drawing a line between the "online community and real-world community". A speaker who said he was Keith Dodd, A US IT worker for an American technology company, asked if the world was "looking at the death of the free internet"? He said the "Internet Kill Switch" proposal before the US Congress would threaten free speech.
Many of us in the technology world were excited about and drawn to and embraced the net because of its profound revolutionary potential - anyone could be a publisher or editor or as a student create a company like Youtube or Google - are we looking at the death of that when the US Government leans on companies and they ingloriously rolled over without asking for legal paper. In all the furore let us not ignore that the content of that is driving the American security apparatus crazy because it's exposing crimes going back generations and where the US Government tears up the First Amendment every day.
1320: Wikileaks supporters rally in Sydney, microblogging by Asher Wolf. Hashtag #WikiSyd
Mastercard, Visa, PayPal (and API), Twitter, Postfinance, Amazon, EveryDNS, OVH France, Tableau Software, Sarah Palin, Joseph Lieberman, Swedish Prosecutor's office, Bild, Wikileaks under fire.
1300: Cables released so far: 1193 (of 251,287).
Wikileaks supporters rallying in Brisbane in protest at Assange's treatment were addressed by former Democrats leader Andrew Bartlett and Council of Civil Loberties president Michael Cope. Getty has photos. Another rally is scheduled in the Queensland capital for tomorrow.
Internet Relay chatter suggests Anonymous operatives are targeting another website critical of Assange.
Noon wrap: Netherlands police yesterday arrested a 16-year-old on suspicion of being involved in Anonymous' hacking of companies arrayed against Wikileaks, Mastercard and PayPal (Google translation).
Australia's top journalist, Laurie Oakes, defended fellow journalist Julian Assange from attacks by Prime Minister Julia Gillard and Attorney General Robert McClelland: "What they said was ridiculous," he said.
To brand what the WikiLeaks site has done as illegal when there's no evidence of any breach of the law, I think is demeaning ... I think as journalists we should make that our view.
Wikileaks released a statement that it neither would "condemn nor applaud" Anonymous attacks.
Anonymous suffered its first setback, having to redirect an attack on Amazon against PayPal instead.
Angered that the Electronic Frontier Foundation wouldn't condone "cyber vigilatism", the Twitter account of anon_operations, one of those behind the attacks, tweeted: "Wanna be next, wise guy?" [Update: Claims that this was sent by someone impersonating an Anonymous member: first case of PR disinformation to sow dissent?]
Forbes suggested that rather being a burden to the economy, the attacks on Amazon. Mastercard and others were gifts to day traders who can reap 10-plus-point gains in a few hours from sentiment.
Twitter's application program interface, a way for third-party software to piggyback on the microblogging service, emerged as a key command and control platform for those carrying out attacks. Such would make it unlikely that threats against Twitter for allegedly dampening Wikileaks prominence on its trending would come to fruition.
The UN representative for freedom told Australia's national public broadcaster the ABC that the US had made Assange a "martyr for free speech".
I think there is no criminal responsibility for being the medium. This is one of the big debates in internet and up to now the general doctrine is that there is no responsibility just to transfer information.
Openleaks, a rival group formed by former members of Wikileaks, announced its intention to carry on the work of publishing documents to the net.
Lawyers in conflict: while the Australian Government hardened its position against Assange, the Attorney General saying the publisher had breached Australian laws, a gathering of legal eagles in Melbourne at the Law Institute of Victoria said no laws were broken by the leaks and Assange should receive full Government support.
Infosec expert Bruce Schneier blogged the escalating attacks on either side did not constitute a war because no nation state was (known) to be involved or directing the attacks.
This has little to do with WikiLeaks. WikiLeaks is just a website. The real story is that "least trusted person" who decided to violate his security clearance and make these cables public. In the 1970s, he would have mailed them to a newspaper. Today, he used WikiLeaks. Tomorrow, he will have his choice of a dozen similar websites. If WikiLeaks didn't exist, he could have made them available via BitTorrent.
0040 Former San Jose Mercury tech columnist Dan Gillmor lashes out at fellow journalists for their "bloodthirsty" pursuit of Assange. And he says those calling for the Wikileaks' founder's head may soon find "death squads" outside their offices ready to take theirs.
(T)he government's campaign is not fully working. Internet "mirror" sites are springing up to host WikiLeaks' material faster than governments can take them down. But WikiLeaks is the beneficiary, in this respect, of a wide swath of support from people who will make it part of their life's mission to help prevent this particular instance of censorship from succeeding.
0015 Lewis Shepherd, director of the Microsoft Institute for Advanced Technology in Governments, in a tweet likens Anonymous' actions to a hybrid of Nazi persecution of the Jews on the eve of WWII and protests against globalisation.
Last week on his blog, Shepherd said the US Government "has allowed a dynamic to emerge without challenge: an 'acceptable' intermediary between Traitor and Public". He recommended charges for treason be levelled against newspapers such as the Guardian and New York Times for publishing Wikileaks-supplied materials.
The original insider-threat individual who ripped the 251,000 cables and all the other previously leaked Iraq war data would likely not have been able to simply provide that to the New York Times personally and have it immediately published; they might have turned him in themselves. But the miraculous creation of a self-appointed, self-sanctified group like Wikileaks has allowed motivated groups like the Times and the UK's Guardian to proclaim that their hands are clean. I find it outrageous. But the government did not press the point after the first major release (Iraq war data) with any forceful intent, so now we're simply going to see this continue - until an Administration gets serious with criminal charges including treason for anyone involved, right up the chain of those stealing/mediating/publishing classified information.
Midnight: Wikileaks mirror count: 1368 (it passed "1337" status a couple hours ago). Number in Australia: four