Background:The detention of Wikileaks publisher and editor-in-chief, Australian journalist Julian Assange triggered an all out cyber civil war between those such as Anonymous, a shadowy collective of online activists sympathetic to his release of secret diplomatic cables and supporters of the US. In the crossfire: websites and computer networks of either faction, taken down by coordinated attacks aimed to disrupt their ability to carry on business, control and command forces and publish information.
Bookmark this page because we'll update this rolling commentary as news breaks.
Know more? Let us know in the comments below or send email to wikiwar(a)securecomputing.net.au
December 17
0900 Wikileaks editor Julian Assange was granted bail and released last night AEDT after British High Court judge Mr Justic Ouseley denied the Crown prosecutor's attempt to keep him in Wandsworth prison, saying he may abscond. In denying the prosecutor, Justice Ouseley said Asange made all efforts to contact police on arrival in Britain and kept them informed of his whereabouts, surrendering voluntarily to police: "That is not the conduct of a person who is seeking to evade justice", he said.
The Guardian reported Assange's first words on release after nine days behind bars:
It's great to smell the fresh air of London again.

First, some thank yous. To all the people around the world who have had faith in me, who have supported my team while I have been away. To my lawyers, who have put up a brave and ultimately successful fight, to our sureties and people who have provided money in the face of great difficulty and aversion. And to members of the press who are not all taken in and considered to look deeper in their work. And I guess finally, to the British justice system itself, where if justice is not always the outcome at least it is not dead yet.

During my time in solitary confinement in the bottom of a Victorian prison I had time to reflect on the conditions of those people around the world also in solitary confinement, also on remand, in conditions that are more difficult than those faced by me. Those people also need your attention and support.

And with that I hope to continue my work and continue to protest my innocence in this matter and to reveal, as we get it, which we have not yet, the evidence from these allegations. Thank you.
Assange will have to meet strict conditions including wearing an e-tag on his ankle to track his movements [ed: does anyone else see the irony in putting an electronic tracking device on an elite hacker?]
0005 Assange granted bail with conditions.
December 16
1600 Assange appears in the High Court in London at 8:30pm AEDT tonight to hear if Swedish prosecutors' attempts to extradite him for questioning over alleged sexual misdemeanours were successful or whether he may retire to the English countryside under effective house arrest on $A379,000 bail until his next hearing on January 11. The Crown Prosecutor blocked Assange's release on bail two days ago it was believed initially at the request of the Swedes although both have denied this.

1300 The Defence Signals Directorate in 2008 was unprepared for cyberwar, Wikileaks documents released by Fairfax press overnight revealed. In a meeting with US intelligence heads, Australian defence chiefs asked the US for help because they were "hard pressed" to keep up with cybersecurity when the directorate was stuck in an old mindset.
Noon The Age releases plaintext versions of the Australian Wikileaks documents.
morning edition

Wikileaks mirrors: 2194
Wikileaks cables: 1532 of 251,287 (0.61 percent)
Wikileaks encouraged US military workers to bypass the government's sanctions on accessing the controversial diplomatic cables by using one of the more than 2000 mirror sites. But US Government workers face punishment if caught reading the materials.
Google has joined the list of pariah providers summarily yanking the cloud out from under Wikileaks supporters Anonymous, Panda Labs believes. The security researcher said Operation Payback organisers used Google Docs to store campaign fliers and conduct polls "to determine future targets". "It's unclear as to which part(s) of the Google TOS have been violated by the group, but according to the organisers, several of these polls have been taken offline by the company," Panda Labs blogger Sean-Paul Correl wrote.
The Twitter profile of Anonymous supporter @Anonywatcher was suspended but a coordination and PR account @AnonOps linked to the group is still operational.
Anonymous urged followers to step out from behind their PCs and turn off Low Orbit Ion Cannon on Saturday to distribute paper fliers in the streets in support of Wikileaks during Operation Paperstorm.
December 15
1430: The eldest daughter of Uzbekistan's President Islom Karamov, Gulnara Karimova, ran US telco Skytel out of the country in 2005 because it rebuffed her overtures to buy into the company, cables released this week revealed. The former US ambassador to the former Soviet satellite state that is a vital choke point for American prosecution of the war in Afghanistan, said Uzbek authorities jammed the CDMA450 mobile phone provider's network and refused to allow it to restart, forcing it to leave the country a few months later.
Australian senator Scott Ludlam says the "high-definition wormhole" Wikileaks cables reveal the "tightropes of diplomacy and massive violence that nation states walk every day".
Prime Minister Gillard's stunning miscalculation in attacking the WikiLeaks organisation are likely to haunt her. Let us be completely clear. Julian Assange didn't leak anything. The organisation of which he is a part received classified material from a source within the US military, which it is now making available to the world's media organisations.

If Assange and his organisation have committed crimes, then let the arguments be heard in an open court. Given the tone of some of the more unhinged commentary from the US and elsewhere calling for [his] extrajudicial killing it is far from clear what his extradition to the US would actually mean.
The US Air Force has blocked employees from visiting media websites carrying Wikileaks documents, including The New York Times and the Guardian even though, presumably, most of them already have access to unredacted versions via the compromised SIPRNET system that was the font of their origin. In a move aimed at ensuring US Government workers can't participate in the discussion accreting to the release of the materials, US defence spokesman Major Toni Jones said it was "routine".
[The Air Force] routinely blocks network access to websites hosting inappropriate materials or malware [malicious software] and this includes any website that hosts classified materials and those that are released by Wikileaks.
Overnight dump
Number of Wikileaks mirrors: 2174
Cables released: 1446 of 251,287 (0.575 percent)
The judge who granted Assange bail in cash of £240,000 ($A379,000) in a British court delighted the twitterati by allowing reporters to tweet proceedings. In response to a question from Times reporter Alexi Mostrous, district judge Howard Riddle granted permission for tweets "if it's quiet and doesn't disturb anything". Swedish prosecutors soon appealed the subsequent decision that would allow Assange to live until the next hearing on January 11 at a manor house two hours outside of London so long as he wore a tracking ankle bracelet and reported to local police each day. Assange and his celebrity legal team led by UN human rights lawyer Geoffrey Robertson QC are due back in court on Friday to hear the outcome of the appeal.
A legislative lawyer for the US Congressional Research Service found that big obstacles lie in the way of attempts prosecute Assange in the US for revealing more than 250,000 diploamtic cables. Jennifer Elsea found such a prosecution would be the first of its type and would carry free-speech First Amendment "implications", political and foreign policy "ramifications" that are "related to the exercise of extraterritorial jurisdiction".
Leaks of classified information to the press have only rarely been punished as crimes, and we are aware of no case in which a publisher of information obtained through unauthorized disclosure by a government employee has been prosecuted for publishing it. There may be First Amendment implications that would make such a prosecution difficult, not to mention political ramifications based on concerns about government censorship.

Although unlawful acquisition of information might be subject to criminal prosecution with few First Amendment implications, the publication of that information remains protected. Whether the publication of national security information can be punished likely turns on the value of the information to the public weighed against the likelihood of identifiable harm to the national security, arguably a more difficult case for prosecutors to make.
In an online poll, nearly 1.25 million readers of Time voted Assange Person of the Year by a landslide, the Wikileaks founder registering 382,020 votes, "giving him an easy first place", Time said. "He was 148,383 votes over the silver medalist, Recep Tayyip Erdogan, Prime Minister of Turkey".
The humble fax machine emerged as the next vector of attack for Wikileaks supporters Anonymous, who turned their attentions from hurling net traffic at the likes of Amazon and credit card companies to organising to bombard those corporations' machines. In Operation Leakflood, the group urges its members to send "random Wikileaks cables" using free fax services to organisations that have denied service to Wikileaks.
December 14

Number of Wikileaks mirrors: 1885 (unchanged from yesterday).
Number of Wikileaks released: 1344 of 251,287 (0.534 percent).
Attempts by counter hackers to bring down the Operation Payback collective are splintering the group but also making it more dangerous and difficult to track by removing the central command and control underpinning their attacks, Panda Labs says "it's pure anarchy".
Black hat search engine optimisers are surfing the wave of interest in Wikileaks to funnel unwitting internet users to malware sites, Panda Labs says.
Amazon's response to Wikileaks threatened the future of cloud computing, Joseph Reger, the chief Technology officer for Fujitsu Technology Solutions told The Wall Street Journal.
This is bad news for the new IT paradigm of cloud computing. If a provider can terminate its service that easily, then it is doing exactly what skeptics expect, putting the security and availability of cloud services into question.

US space agency NASA was given the right to manage its own cybersecurity using real-time intelligence and write an information security awareness education syllabus. NASA was one of Assange's first targets as a teen hacker, which he boasted he had the run of for years.
Hackers from 4chan, a group connected to those who took out credit card companies in retribution at their withdrawing support from Wikileaks, overnight released a 497MB file containing the login credentials, source code, chat logs and other confidential information of the Gawker blog empire. To learn if your credentials were stolen, check out the Google Fusion table and follow the instructions.
In the YouTube video above, US Department of State assistant secretary for human rights Michael Posner defends its government's pursuit of Assange at the opening of International Human Rights Day, saying there was no free speech right to shout "fire in a crowded theatre" (7min20sec).
The University of Twente in the Netherlands throws cold water over the notion that Anonymous members are incognito. Researchers discovered the "hacktivists are easy traceable, and therefore anything but anonymous". The Low Orbit Ion Cannon software they use are "relatively simple and unveil the identity of the attacker".
If hacktivists use this tool directly from their own machines, instead of via anonymisation networks such as Tor, the Internet address of the attacker is included in every Internet message being transmitted. In the tools no sophisticated techniques are used. The attack technique can be compared to overwhelming someone with letters, but putting your address at the back of the envelop. Hacktivists may not be aware that international data retention laws require that commercial Internet providers store data regarding Internet usage for at least six months. This means that hacktivists can still be traced easily after the attacks are over.
US counter hackers flying under the Operation Fightback flag yesterday started a patriotic assault on Anonymous forces, hindering and ultimately splintering and dividing the pro-Wikileaks collective's efforts.
December 13
1715 Operation Black Face this Saturday is the latest Assange splinter project that aims to marry protests in the real and cyber worlds by having participants wear black or post a black profile picture of themselves online.
The very same day supporters of life, liberty, freedom and transparency would write a common e-mail to UK Supreme Court (to) protect whistleblowers and free media. This message would demonstrate the strength of the silent majority which today, is in favor of Julian and friends and against the governments.
Iceland's parliamentarians have called Mastercard and Visa executives to account for stopping payments to Wikileaks with the threat they may yank the companies' licences, reports the Reykjavik Grapevine. "People wanted to know on what legal grounds the ban was taken, but no one could answer it. They said this decision was taken by foreign sources," says committee chairman Robert Marshall. The CEO of the company that operates the credit cards in that country said his business Valitor had nothing to do with the decision.
1650 Based on information in a Swedish TV documentary, an anti-Anonymous blogger proposes that Assange is behind the recent attacks on the likes of Mastercard and PayPal and is directing the latest Operation Leakspin attempt to crowdsource analysis of the remaining 250,000 diplomatic cables. Unhacktheplanet claims Assange is trying an elaborate social engineering experiment to fundamentally rewire the world's social order.
1630 University of Sydney IT academic Michael Fry says Australians who helped bring down global websites as part of Anonymous Operation Payback could face prosecution and jail.
Usually DDOS attacks occur after 'botmasters' illegally take over thousands of computers, turning them into 'zombies' for illegal activities. The primary users are unaware their computer has been infected.

What is fascinating and novel here is that the latest attacks involved thousands of willing participants who knowingly allowed their machines to be infected in order to partcipate in politically motivated attacks. This suggests a huge level of emotive support for WikiLeaks and its activities, but also a level of naivety. It seems that members of the group downloaded publicly available LOIC code, but took no steps to evade discovery and identification. This makes members vulnerable to detection, potential prosecution and counter-cyberattack. Counter-attacks have indeed happened today, initiated by US political groups.

Whether or not legal action is taken against offending participants is a thorny issue. This cyber war is gathering pace and prosecutions could generate another round of attacks. Either way we are seeing the beginning of a new era in political cyber-warfare with the widespread use of botnets.
1515 Corporates' attacks on Wikileaks may lead to rise of peer-to-peer distributed DNS to replace ICANN and overthrow of PayPal's online financial services and payments monopoly through Bitcoin.

1430 Number of Wikileaks released 1295 (of 251,287) about 0.5 percent.
Russia Today airs concerns that US Government will use the latest Wikileaks drip-feed as a pretext to legislate a "cyber-Patriot Act" to crack down on dissent on the global internet.
Early cut of Wikileaks documentary WikiRebels on YouTube: "If you engage in immoral, unjust behaviour it will be found out and you will suffer the consequences".
"The majority of the general public has neither the time, interest or resources to analyse Wikileaks' material," say Swedish documentary makers. Assange came to the conclusion that mainstream "media are the only channels with resources and motivation required to have a real impact" on public perception.

"In 2006 we hoped the public would write analysis articles collaboratively," Assange says of why there's a "wiki" in Wikileaks but that turned out to be "not at all true".
A video walkthrough of the "James Bond villain" Pionen data center in Sweden that hosts Wikileaks. Photos and schematics.
AM weekend news dump
Wikileaks mirror count: 1885 (five .au domain names)

Internet research company Netcraft contradicted Mastercard's claims last week that the Anonymous attack on the credit card company's servers didn't affect processing of transactions: "(M)any consumers reporting that they were unable to pay for goods online. Businesses reported a corresponding drop in trade during that first attack." Netcraft also reported an outage at Amazon's Ireland data centre (the sites are now back up) although it was unknown if it was related to Anonymous' actions, the British researcher said. Researcher Paul Mutton said the Operation Payback IRC network had grown to 18 servers. The company has a handy outage table showing which sites are suffering.
Confusion reigned over a report spurred by a Google search whether the CIA had set up a honeypot fake Wikileaks mirror to ensare unsuspectign downloaders however veteran tech reporter and CBS News columnist Declan Mccullagh disputed this claim.
Dutch police arrested a second teen on suspicion of being engaged in the Anonymous attacks against core infrastructure and the collective issued a statement about the arrest of the first 16-year-old.
The US military began removing or disabling USB ports and other ways to remove data from PCs and threatened to court martial anyone found circumventing the measure. The US Government is in full data lockdown mode, investigating ways to prevent a recurrence of the massive leak, suspected to have been carried out be soldier Bradley Manning.
The author of a book that analysed the first tranche of Wikileaks diplomatic cables yanked it from the Amazon store after the online bookseller suffered attacks on its infrastructure from Anonymous angered over its apparent hypocrisy at denying service to Wikileaks while seeming to profit from the cables.
An insider account of what drives Assange by his friend and Underground co-author, University of Melbourne academic Suelette Dreyfus.
Anonymous changed its tack in the wake of Assange's arrest, shifting from denying service to its targets to crowdsourcing analysis and distilled publication of the remaining cables to speed their dissemination into the public sphere in what it calls Operation Leakspin. Panda Labs researchers say Operation Payback organisers told them they had nothing to do with the new strategy: "This highlights the fact that a group like "Anonymous" has no leaders and therefore cannot be easily controlled."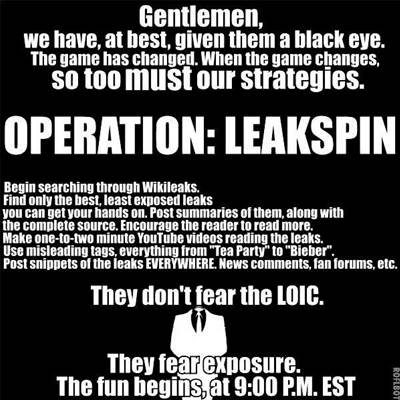 December 10
1645: Compuware says its CloudSleuth performance monitoring service saw a 58 percent rise in response times on Amazon Web Services owing to DDoS just before it kicked Wikileaks from its servers, a degradation the software maker said was responsible for the cloud provider's decision. Soon afterwards, US senator Joe Lieberman claimed credit while Amazon pointed to unnamed service violations for its decision to turn off the whistleblowers' site.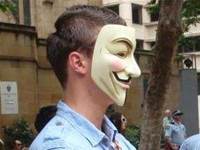 "Anon" protester at today's Sydney Wikileaks rally. photo: Ry Crozier


1530: Speakers to the Sydney Wikileaks rally today heard calls for Assange to be awarded Australian of the Year for his "investigative journalism". Photo gallery.
1400: Sydney Wikileaks supporters heard from Greens, leftists, WL Central editor Asher Wolf and Keith Dodd, a US IT professional about their concerns for Julian Assange and the whistleblowers' website. Before up to 1000 protesters, NSW Greens MP David Shoebridge ridiculed the Australian Establishment for drawing a line between the "online community and real-world community". A speaker who said he was Keith Dodd, A US IT worker for an American technology company, asked if the world was "looking at the death of the free internet"? He said the "Internet Kill Switch" proposal before the US Congress would threaten free speech.
Many of us in the technology world were excited about and drawn to and embraced the net because of its profound revolutionary potential - anyone could be a publisher or editor or as a student create a company like Youtube or Google - are we looking at the death of that when the US Government leans on companies and they ingloriously rolled over without asking for legal paper. In all the furore let us not ignore that the content of that is driving the American security apparatus crazy because it's exposing crimes going back generations and where the US Government tears up the First Amendment every day.
1320: Wikileaks supporters rally in Sydney, microblogging by Asher Wolf. Hashtag #WikiSyd
Mastercard, Visa, PayPal (and API), Twitter, Postfinance, Amazon, EveryDNS, OVH France, Tableau Software, Sarah Palin, Joseph Lieberman, Swedish Prosecutor's office, Bild, Wikileaks under fire.
1300: Cables released so far: 1193 (of 251,287).
Wikileaks supporters rallying in Brisbane in protest at Assange's treatment were addressed by former Democrats leader Andrew Bartlett and Council of Civil Loberties president Michael Cope. Getty has photos. Another rally is scheduled in the Queensland capital for tomorrow.
Internet Relay chatter suggests Anonymous operatives are targeting another website critical of Assange.
Noon wrap: Netherlands police yesterday arrested a 16-year-old on suspicion of being involved in Anonymous' hacking of companies arrayed against Wikileaks, Mastercard and PayPal (Google translation).
Australia's top journalist, Laurie Oakes, defended fellow journalist Julian Assange from attacks by Prime Minister Julia Gillard and Attorney General Robert McClelland: "What they said was ridiculous," he said.
To brand what the WikiLeaks site has done as illegal when there's no evidence of any breach of the law, I think is demeaning ... I think as journalists we should make that our view.
Wikileaks released a statement that it neither would "condemn nor applaud" Anonymous attacks.
Anonymous suffered its first setback, having to redirect an attack on Amazon against PayPal instead.
Angered that the Electronic Frontier Foundation wouldn't condone "cyber vigilatism", the Twitter account of anon_operations, one of those behind the attacks, tweeted: "Wanna be next, wise guy?" [Update: Claims that this was sent by someone impersonating an Anonymous member: first case of PR disinformation to sow dissent?]
Forbes suggested that rather being a burden to the economy, the attacks on Amazon. Mastercard and others were gifts to day traders who can reap 10-plus-point gains in a few hours from sentiment.
Twitter's application program interface, a way for third-party software to piggyback on the microblogging service, emerged as a key command and control platform for those carrying out attacks. Such would make it unlikely that threats against Twitter for allegedly dampening Wikileaks prominence on its trending would come to fruition.
The UN representative for freedom told Australia's national public broadcaster the ABC that the US had made Assange a "martyr for free speech".
I think there is no criminal responsibility for being the medium. This is one of the big debates in internet and up to now the general doctrine is that there is no responsibility just to transfer information.
Openleaks, a rival group formed by former members of Wikileaks, announced its intention to carry on the work of publishing documents to the net.
Lawyers in conflict: while the Australian Government hardened its position against Assange, the Attorney General saying the publisher had breached Australian laws, a gathering of legal eagles in Melbourne at the Law Institute of Victoria said no laws were broken by the leaks and Assange should receive full Government support.
Infosec expert Bruce Schneier blogged the escalating attacks on either side did not constitute a war because no nation state was (known) to be involved or directing the attacks.
This has little to do with WikiLeaks. WikiLeaks is just a website. The real story is that "least trusted person" who decided to violate his security clearance and make these cables public. In the 1970s, he would have mailed them to a newspaper. Today, he used WikiLeaks. Tomorrow, he will have his choice of a dozen similar websites. If WikiLeaks didn't exist, he could have made them available via BitTorrent.
0040 Former San Jose Mercury tech columnist Dan Gillmor lashes out at fellow journalists for their "bloodthirsty" pursuit of Assange. And he says those calling for the Wikileaks' founder's head may soon find "death squads" outside their offices ready to take theirs.
(T)he government's campaign is not fully working. Internet "mirror" sites are springing up to host WikiLeaks' material faster than governments can take them down. But WikiLeaks is the beneficiary, in this respect, of a wide swath of support from people who will make it part of their life's mission to help prevent this particular instance of censorship from succeeding.
0015 Lewis Shepherd, director of the Microsoft Institute for Advanced Technology in Governments, in a tweet likens Anonymous' actions to a hybrid of Nazi persecution of the Jews on the eve of WWII and protests against globalisation.
Last week on his blog, Shepherd said the US Government "has allowed a dynamic to emerge without challenge: an 'acceptable' intermediary between Traitor and Public". He recommended charges for treason be levelled against newspapers such as the Guardian and New York Times for publishing Wikileaks-supplied materials.
The original insider-threat individual who ripped the 251,000 cables and all the other previously leaked Iraq war data would likely not have been able to simply provide that to the New York Times personally and have it immediately published; they might have turned him in themselves. But the miraculous creation of a self-appointed, self-sanctified group like Wikileaks has allowed motivated groups like the Times and the UK's Guardian to proclaim that their hands are clean. I find it outrageous. But the government did not press the point after the first major release (Iraq war data) with any forceful intent, so now we're simply going to see this continue - until an Administration gets serious with criminal charges including treason for anyone involved, right up the chain of those stealing/mediating/publishing classified information.
Midnight: Wikileaks mirror count: 1368 (it passed "1337" status a couple hours ago). Number in Australia: four
December 9
2350: Federal Liberal member for the Sydney seat of Wentworth, Malcolm Turnbull, draws parallels between his defence of ex-MI5 agent Peter Wright in the Spycatcher affair and Wikileaks in his blog. He says that it would be difficult to prosecute Assange and that the US State Department should take up the Wikileaks' publisher's offer to vet the remaining cables: "Harm minimisation should be the order of the day for Washington."
Just as the vindictive pursuit of Peter Wright turned his book into an international best seller, so the furious attacks on Mr Assange are likely to be counterproductive. The long term damage from the wikileaks cables is likely to be that it confirms that despite spending billions on security and the war against terror, the US Government is unable to preserve the security and confidence of those it deals with right around the world. It will take a lot of reassurance before the chilling impact of these leaks wears off.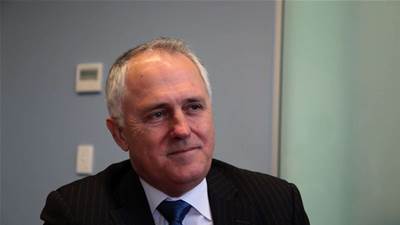 Malcolm Turnbull
2330: Supporters of Bradley Manning, the US soldier believed to be the source of the Wikileaks diplomatic cables, say the whistleblowers' website is yet to make good on a promised "substantial amount" towards his $US100,000 legal defence fund.
We understand the difficult situation Wikileaks currently faces as the world's governments conspire to extinguish the whistleblower website. However, in order to meet Bradley Manning's legal defence needs, we're forced to clarify that Wikileaks has not yet made a contribution towards this effort. We certainly welcome any contribution from Wikileaks, but we need to inform our supporters that it may not be forthcoming and that their continued contributions and support are crucial.
The website says tax-deductible donations (US citizens) can be made at bradleymanning.org, which accepts Visa or Mastercard.
2310: The website of former US vice-presidential hopeful Sarah Palin is still down, possibly Anonymous retribution for Palin demanding that the "un-American" Assange be hunted down like Osama bin Laden for publishing the diplomatic cables. A Palin aide told ABC (US) that hackers also stole the personal credit card details of Palin and her husband.
2300: John Young is no stranger to publishing leaked documents to the internet. The founder of the original website for leaks, Cryptome.org, tells the Guardian that even as US left and right wed over their shared loathing of Assange, all the fuss over Wikileaks is "just typical arm-waving and yelling. If anything, this will just further wind people up to oppose authority and send in more documents." Cryptome has published more than 60,000 leaked documents over 14 years.
2240: GetUp! reaches $170,000 in donations, sufficient to buy a half page ad in the New York Times (it's aiming for at least $250,000 to buy a full page).
2200: Britain's Telegraph reports that hackers took down the Swedish Government's official website regeringen.se for a couple hours but it is back online.
2020: GetUp! tweets the activist group collected $132,000 and 25,000 signatures in just four hours from an online campaign to run ads in US media. The group is collecting donations at the rate of $550 a minute.
1930: An updated list of Australian protest actions is on the Wikileaks Central website. Actions are planned for all Australian capitals over the next week except for Darwin.
1815: Finnish information security researcher Mikko Hypponen says the Verified by Visa and main PayPal sites are down, coming at the worst time for nervous retailers in the run up to Christmas. Downforeveryoneorjustme.com confirms the sites are offline.
1800: Asher Wolf is live blogging the Law Institute of Victoria Wikileaks panel with Julian Burnside, ABC radio presenter Jon Faine and others. Twitter hashtag #LIV
1750: Anonymous equates its DDoS attacks to a "digital sit-in" in defence of human rights in an open letter published to its Google Blogger page.
Anonymous is doing what many successful campaigns have done in the past; a sit-in. It may be hard to comprehend, but a digital sit-in is our most effective method to show that all of us deserve Freedom of Speech and a free Internet.
1730: Spanish security researcher PandaLabs says Anonymous IRC chat servers flooded with bots from US "patriots" seeking to disrupt the collective's communications.The researcher was under "constant and steady" DDoS attack today.
PandaLabs blog sustained 139 service interruptions and over five hours of downtime today. It's still unclear who is to blame for the attack, but it's obvious that they did not want these attacks documented for the general public.

People have been asking me all day if there is some sort of "patriot response" to Operation Payback and there is no doubt in my mind that an initiative does exist, but no one besides @Th3J35t3r has publicly "attacked back" and he/they still haven't said anything about these latest attacks.

So, what makes me think that there is some sort of underground patriot response?


The Operation Payback website has sustained a series of DDoS attacks despite being hosted on a "bulletproof" server specializing in anti-ddos and hosted in Russia.
1720 hrs: Australian information security expert Stephen Wilson criticises Anonymous' defence of Wikileaks for losing the "moral high ground". The identity and authentication expert blogs that if a "government had mounted a DDOS attack against Wikileaks, the blogosphere would rightly scream blue bloody murder".
But too many are lionising the DDOS attacks undertaken by a self-appointed cyber militia. One of Wikileaks' key assets is the moral high ground. Their true supporters should roundly condemn all hacktivism, or we will all go down the gurgler of double standards.
1700: A poster circulating the internet claimed earlier today that millions of Mastercard's customers' details were leaked during a break in to the credit card company's servers last night. Those behind "Operation Bank Troll" claim Mastercard knows of the breach but is covering it up. Mastercard denies its systems were breached.
Late afternoon wrap (1615): Mastercard and Visa, which choked funds to Wikileaks this week, were revealed in cables published in the Guardian to have been the beneficiaries of high-level lobbying efforts by the US Government seeking to halt the passage of a bill through the Russian parliament or Duma that would have harmed the credit card companies' interests.
Julian Burnside will address a gathering on Assange's situation at the Law Institute of Victoria at 1730 today, the same time as a protest in Brisbane. Protests in support of Wikileaks are planned for Perth and Melbourne tomorrow, Canberra next week and other cities around the world.
The British bookselling arm of cloud-services company Amazon that kicked Wikileaks from its servers last week owing to alleged breach of contract terms has for sale on its website a Kindle version of the first tranche of Wikileaks documents.
Activist group GetUp! asks at its website Australians to back its push to take out ads in US media aimed at defending Assange from calls for his arrest and killing.
The official site of the Bolivian Vice President is a Wikileaks mirror.
1525: Anonymous publishes its manifesto in which it says it's "not an organisation or group of people. It most certainly not a group of hackers [it's] an online living consciousness."
Operation: Payback is now directed towards those who employ unfair means to fight Wikileaks. [O]rganisations such as Visa and Mastercard among others are facing attacks not to their critical infrastructure but to their corporate websites, the online public face of those organisations.
1515: Australia emerges as a leading battlefront in the online civil war over Wikileaks while iPhone and Android are the mobile infosurgent's gadgets of choice. Gadget blog Gizmodo has a handy primer on the hacker's DDoS tool of choice, Low Orbit Ion Cannon, ideal for the total n00b.
The idea behind LOIC is that it can allow you to participate in attacks even if you've no clue how to hack. Just download a copy of LOIC (available for Windows, Mac, and Linux!), punch in the target information like a URL or an IP address and zap.
Low Orbit Ion Cannon, the DDoS tool for newbies.
1500: Electronic Frontiers Australia chairman Colin Jacobs tells the Australian Broadcasting Corporation that the "tactics used by Anonymous are extremely unsophisticated and more of a brute force attack rather than any subtle manipulation of data and security in order to free any information." [mp3 audio stream]
1445 hrs: AnonOps.info website shows its network status, including sites under attack and those being rebuilt after data corruption.
1440: US information security professional Hemanshu Nigam advises government spooks not to try to crack the 256-bit AES "Insurance" file, rumoured to contain the unredacted wikileaks cables, but to focus on turning someone who Julian Assange trusts for the password, he tells CNN.
The Government would be wise not to focus on the technical, and instead concentrate on finding and talking with people who were around Assange in the last few years, the people who he trusts. Technology won't turn on a friend but people will.
1420: Babbage, the tech blog for the Economist, tries to educate Anonymous about the US political system. An Anonymous op asks: "Paypal and Visa are unbeatable, so do is Everydns, and interpol will rape all of us, Postfinance is the most able to suffer our rage, who the **** is lieverman?" To which the Economist replies: "He's just a senator. Almost became vice-president, once. It was years ago."
1405: Tango down: Anonymous claims its attacks against PayPal successful:"PayPal is down :) #BradAss87 #wikileaks #cablegate #payback #DDOS #paypal #win #lol"
Takedown confirmed by downforeveryoneorjustme.com.
1340: The Californian city of Berkeley is considering awarding alleged Cablegate whistleblower Bradley Manning "hero" status for "courage in bringing truth to the American people and the people of the world", Kim Zetter reports in Wired. Author of the resolution, Bob Meola said:
If he did what he's accused of doing, he's a patriot and should get a medal. I think the war criminals should be the ones prosecuted, not the whistle-blowers.
Berkeley, which is home to the famous eponymous university and a centre for technology research and companies such as Pixar, was a centre of the hippy movement in the '60s.
Earlier, Facebook and Twitter slammed closed the accounts of Anonymous. Hackers immediately shifted Twitter accounts for command and control.
@Anon_operation Twitter suspension notice.
1330: Wikileaks mirror count: 1334. Number in Australia: four.
1320: Time magazine says in the era of crowdsourcing, apprehending Julian Assange is a win for Wikileaks and its followers.
The asymmetrical info war initiated by the WikiLeaks dump of diplomatic cables is all about spectacle - the more Assange is set up by world powers, the more powerful his own movement becomes.
1312: ThePayPalblog.com is back online with its earlier, updated statement on why it strangled funds to Wikileaks, although it's not accepting comments.
Media reports today regarding a statement made by our vice president of platform, mobile and new ventures, Osama Bedier, at the LeWeb conference in Paris, have created confusion about PayPal's decision to permanently restrict the account that was raising funds for WikiLeaks. We want to set the record straight.

As a global payment service that moves billions of our customers' funds across borders and across jurisdictions, we are required to comply with laws around the world. Compliance with these laws is something we take very seriously. PayPal's Acceptable Use Policy states that we do not allow any organization to use our service if it encourages, promotes, facilitates or instructs others to engage in illegal activity. This policy is part of an agreement we've made with our account holders and with the companies that allow us to process global payments. It's also an important part of our commitment to protect our customers and to ensure our business can continue operating around the world.

In 2008 and 2009, PayPal reviewed and restricted the account associated with WikiLeaks for reasons unrelated to our Acceptable Use Policy. As soon as proper information was received from the account holder, the restrictions were lifted.

The account was again reviewed last week after the U.S. Department of State publicized a letter to WikiLeaks on November 27, stating that WikiLeaks may be in possession of documents that were provided in violation of U.S. law. PayPal was not contacted by any government organization in the U.S. or abroad. We restricted the account based on our Acceptable Use Policy review. Ultimately, our difficult decision was based on a belief that the WikiLeaks website was encouraging sources to release classified material, which is likely a violation of law by the source.

While the account will remain restricted, PayPal will release all remaining funds in the account to the foundation that was raising funds for WikiLeaks.

We understand that PayPal's decision has become part of a broader story involving political, legal and free speech debates surrounding WikiLeaks' activities. None of these concerns factored into our decision. Our only consideration was whether or not the account associated with WikiLeaks violated our Acceptable Use Policy and regulations required of us as a global payment company. Our actions in this matter are consistent with any account found to be in violation of our policies.
1305: The Internet Society says in its monthly newsletter that EveryDNS' action in yanking Wikileaks' domain name from under it "dramatically puts the principles" of "free expression and non discrimination that are essential to preserve the openness and utility of the internet" at risk. And it says those who "maliciously" took Wikileaks down should face prosecution.
Recently, we have witnessed the effective disappearance from the Internet of a website made infamous through international press coverage and political intrigue.

The Internet Society is founded upon key principles of free expression and non discrimination that are essential to preserve the openness and utility of the Internet. We believe that this incident dramatically illustrates that those principles are currently at risk.

Recognizing the content of the wikileaks.org website is the subject of concern to a variety of individuals and nations, we nevertheless believe it must be subject to the same laws and policies of availability as all Internet sites. Free expression should not be restricted by governmental or private controls over computer hardware or software, telecommunications infrastructure, or other essential components of the Internet.

Resilience and cooperation are built into the Internet as a design principle. The cooperation among several organizations has ensured that the impact on the Wikileaks organizational website has not prevented all access to Wikileaks material. This further underscores that the removal of a domain is an ineffective tool to suppress communication, merely serving to undermine the integrity of the global Internet and its operation.

Unless and until appropriate laws are brought to bear to take the wikileaks.org domain down legally, technical solutions should be sought to reestablish its proper presence, and appropriate actions taken to pursue and prosecute entities (if any) that acted maliciously to take it off the air.
1300: Confronted with suspicion that it was censoring discussion of Wikileaks, Twitter clarified how trends came to be on the popular microblogging site.
Sometimes a topic doesn't break into the Trends list because its popularity isn't as widespread as people believe. And, sometimes, popular terms don't make the Trends list because the velocity of conversation isn't increasing quickly enough, relative to the baseline level of conversation happening on an average day; this is what happened with #wikileaks this week.
Noon: PayPal, Visa and Mastercard say their core networks are operational although acknowledge attacks against their public websites are having an impact. PayPal's official social media website thepaypalblog.com is again down. Anonymous (AnonOps), the group coordinating the "Operation: Payback" attacks against the infrastructure of those aligned with the US Government, is itself offline.
0930: In taking down Visa, hackers appear to have done what Monica Lewinski, Mars Pathfinder and the World Cup couldn't do: overload the world's most sophisticated content distribution network, Akamai, Finnish anti-malware researcher Mikko Hypponen tweeted.