Self check-in kiosks used by Virgin Blue at Melbourne's Tullamarine Airport were again out of action last night, adding to the frustration of travellers already facing delays due to inclement weather.
At 6:45pm, iTnews staff attempting to check in at the airport found that all 14 self check-in kiosks displayed "Out of Order" with a short apology for the inconvenience.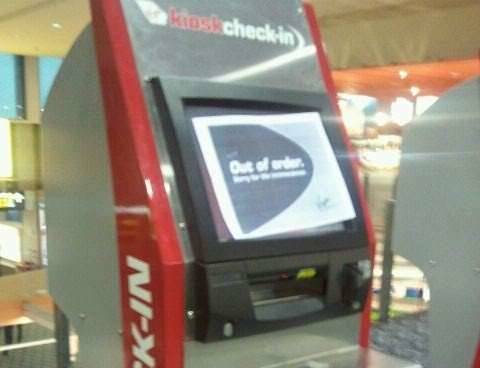 A media spokesman for the airline told iTnews that no problems have been reported at corporate level yet.
Last month, Virgin Blue suffered a major reservations and check in systems outage that saw hundreds of flights cancelled and long queues at airports.
The airline blamed IT outsourcer Navitaire and said it was "actively pursuing all avenues" to recover an estimated $15-$20 million of losses caused by the IT outages.
In the meantime, it had performed upgrades to the system, which saw it take its web and kiosk check-in services as well as its online and telephone reservations services offline for over 24 hours earlier this month.
It was unclear whether problems at Melbourne yesterday were related to the recent systems issues.
Stay tuned for more...