Founder of the Australian Computer Society, John Bennett, passed away earlier this month, aged 89.
Bennett was one of Australia's first computer scientists, working as a research student at Cambridge to build one of the first stored-program computers, EDSAC. He designed, built and tested the main control unit and bootstrap for the computer and carried out the first structural engineering calculations on a computer as part of his doctorate.
Bennett returned to Australia in 1956, becoming the first professor in computing science at the Basser Laboratory at Sydney University where he led the team that programmed and used SILLIAC, a machine built to a design based on the University of Illinois' ILLIAC machine.
Bennett was a co-founder of the NSW Computer Society and while chairman of the Institute of Engineers he pushed for the creation of a national computer society that was founded in 1966.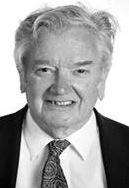 John Bennett, ACS founder
"We have lost one of our nation's greatest ICT icons," said ACS president Anthony Wong.
"John's talents and knowledge were recognised by his appointment as Australia's first professor of computer science. He significantly advanced the professional excellence of Australia's ICT industry, which dramatically increased our nation's presence on an international level."
The society's chief executive officer Bruce Lakin praised Bennett's intellectual rigour and commitment to ICT.
"John was a thought leader and one of our nation's greatest ICT scholars," Lakin said.
"His dedication and passion was instrumental in the progression of the Australian Computer Society to every state in Australia. He was well respected [and] admired by the industry as a true ICT professional and a gentleman. He will be greatly missed."
John Bennett passed away on December 9 and was survived by his wife Mary Bennett, four children and six grandchildren.