Telstra unveiled its latest hardware product - coined the T-Hub - at its annual investor day on Wednesday.
The T-Hub is a seven-inch tablet device with cordless handset and is still in very early development.
Telstra CEO David Thodey said the company had been conducting a pilot of the product which was still in progress.
"We really want to make sure it's a great user experience when you get it so that all the bugs are ironed out and so it works well," he said. "[There's] just a bit more work to be done on that".
No price had been placed on the device as it was likely to be bundled with new service offerings.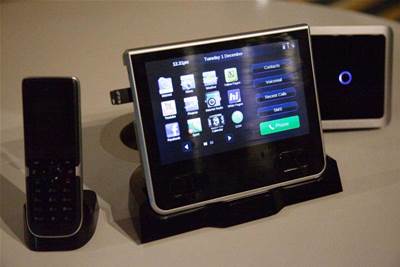 The 'fourth screen'
Group managing director of Telstra product management Holly Kramer named the T-Hub the "fourth screen" in the home.
While sharing some characteristics with iiNet's BoB, the T-Hub uses Telstra's PSTN network rather than Voice-over-IP (VoIP).
"This is whole new device experience that brings together PSTN calling and touch screen access to the internet in the form of a seven-inch tablet and a cordless handset," Kramer said.
Kramer said it was not a PC, not a TV and not a mobile device but a new way of consuming content and said it would be introduced into the market "in the coming months".
It would have the same touch screen calling experience as the iPhone and HTC, Kramer said.
It would also integrate into an online address book with access to Bigpond and Sensis content and web services YouTube, Facebook and Twitter. It would use the mobile versions of those sites and not a customised application, a Telstra staff member said.
When not in use it would act as a digital photo frame and would also include access to internet radio.
"We think this is really going to start to transform and create a whole new way for customers to interact not just with fixed-line calling but also with the internet," Kramer said.