Mobile computing devices like laptops and smartphones were supposed to make our lives easier, and certainly this is true of email and web access, but file management across devices remains tricky and time consuming.
The more devices we introduce, the more complex managing all the files becomes across all the devices.
Three apps below may cure some of the headaches.
1. Dropbox
Price: Free
Version Reviewed: 1.1.1
Overall Rating: 4 out of 5
User rating : 3.5 out of 5
Developer: Dropbox
File sync and sharing service Dropbox recently surpassed four million users across the globe, and with the addition of their iPhone application, the proposition looks even stronger.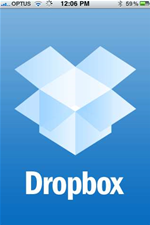 For those unfamiliar with Dropbox, the idea in a nutshell is the ability to keep designated files in sync across both a number of computers and online. In doing so, it allows simple file sharing, on line backup and web access to your files.

With the Dropbox iPhone application, mobile access to these files is also possible.

Once your phone is linked to your Dropbox account it effectively becomes another linked device
albeit with reduced functionality. You will be able to view files, watch videos or even listen to music stored in your Dropbox account.






The key feature of this app like its parent is synchronisation.

Whilst files on Dropbox are automatically synchronised, given the data limitations of the iPhone, no files are actually downloaded on to your device unless you nominate them as favourites. In this way, there is no data transfer to your phone whilst you are making changes on your desktop/laptop.

Once you open the app you will see the latest version either to open directly from the cloud or if you have nominated the file as a favourite, a prompt to download the latest version.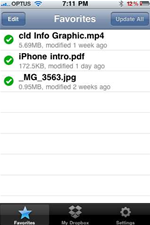 Another feature of note is the easy sharing of files.

If on the parent version of Dropbox you have invited or been invited by recipients to share a folder or file, any change made is automatically updated across all devices amongst all users. So whilst others may be in the office finishing off that crucial last section of the presentation, you may be poolside checking the changes.

Staying poolside briefly, the app also features a link to the native camera, so any holiday snaps from the phone could be in an unlimited number of shared folders almost instantaneously.

Sharing is also possible via a simple email link, and intelligently the email will not be weighed down by a data heavy presentation but rather provide a link to the recipient for that file to be downloaded.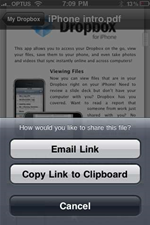 2. Readdle Docs
Price: $5.99
Version Reviewed: 2.1.0
Overall Rating: 3 out of 5
User rating : 3 out of 5
Developer: Readdle
Whilst significantly more expensive than Dropbox, Readdle provides a little more functionality for those that would like a slightly more advanced document reader as well as file manager/storage provider.


Starting with the file manager capability, the app allows the iPhone to be used as a wireless drive, importing and exporting documents with relative ease.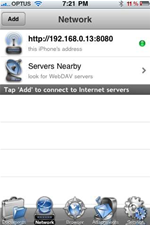 As alternatives, the app also allows integration with cloud storage like the aforementioned Dropbox, MobileMe or Google Docs. It also provides 512Mb of Readdle storage as part of the purchase price of the app.




Going further, Readdle can also isolate and read any of the attachments from your email account like Gmail, Hotmail and Yahoo.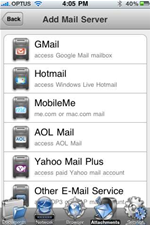 As a reader, Readdle is also a high performer. Added functionality has been included like orientation lock, bookmarks, and email capability.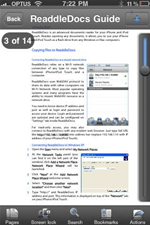 Whilst the application does not offer the simplicity or the synchronisation prompts of Dropbox, the app is compelling if you are looking for a little more out of your reader and perhaps use a varied number of 'clouds' to store your files.
3. Air sharing
Price: $3.99
Version Reviewed: 2.1.4
Overall Rating: 2.5 out of 5
User rating : 3.5 out of 5
Developer: Avatron Software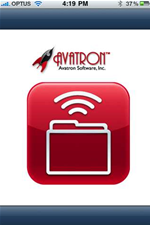 Slightly cheaper than Readdle, Air sharing is an app that provides the functionality of a wireless portable hard drive with very little fuss.

Whilst lacking the added functionality of some of its competitors, it is simple and straightforward.

It is very much an app that for $3.99 performs exactly the functions of a USB flash drive.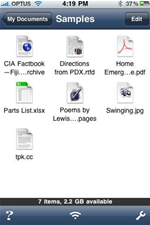 Simply mount the drive and drag and drop files. The app allows the creation of folders as per a normal USB so you can sort files and folders and ensure those poolside pics don't end up in the wrong presentation!

Air sharing Pro offers slightly improved functionality with mobile printing and an improved reader, but not enough to justify the $12.99 price point.
Given its an extended weekend we also wanted to feature a distracting game that would keep you entertained a little more than the average.

Fieldrunners fits the bill.
Fieldrunners
Price: $3.99
Version Reviewed: 1.3.1
Overall Rating: 4.5 out of 5
User rating : 4 out of 5
Developer: Subatomic Studios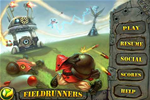 Field runners is a tower defence game that requires the player to 'defend' against swarms of enemies by building a series of towers with various levels of weaponry.

It is highly addictive and surprisngly involves a reasonable amount of strategy and cunning.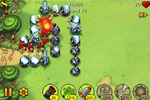 The various towers range in price with money awarded each time an enemy is destroyed.
Graphics and sounds are clean and simple and gameplay is a breeze.

As the player progresses through each map, different strategies are called for and the addiction level increases!

Be very careful this Easter, you may find yourself knee deep in Goo Towers for a little longer than you might think!