Kmart Australia wants to "strangle [its] mainframe out of existence" and use the money it saves to modernise its core merchandise system.
Chief technology officer Michael Fagan revealed the plan at the AWS re:Invent 2019 conference in Las Vegas, and said it would shave a sizable amount off the retailer's IT expenses.
Fagan said Kmart is three years into its exploration of cloud services but noted it had gotten much more serious in the past 18 months and moved more production workloads into AWS.
This has coincided with a mass training and certification exercise for 1400 employees, including Kmart's entire IT workforce.
Fagan said the training had already led to cost savings for IT as teams embraced AWS for infrastructure-as-a-service.
"One of our development teams that have been through the training came back and said, 'Hey, we're going to try [EC2] spot instances'," he said.
"They've managed to reduce our compute cost by 70 percent, so there's a direct link between training and certification to cost reduction.
"Somebody else has also had a look at the storage, so we've gone from near real-time storage to [AWS] Glacier storage. We've reduced our storage costs by 90 percent."
However, the prize is reduced reliance - and ultimately elimination of the need for - Kmart's expensive mainframe.
"One of the things we want to do is modernise our merchandise system. It's the heart and soul of any retailer - [covering] product registration, ordering, replenishment and supply chain systems," he said.
"We've got a nice new shiny mainframe box but the applications technology that's running in that box is more than 40 years old. I'd really like to be able to say we actually have something nice and modern.
"So we're going to virtualise the mainframe early next year - that's already underway.
"We will actually just take it straight up and run it into cloud using an emulator, and that's going to give us huge savings.
"We pay half a million dollars a month, so we're paying $25,000 every work day for this, and that cost will drop - it won't drop to zero but it will be a significant saving.
"The saving that we will make out of that, we will use to invest in completely modernising, re-architecting and rebuilding our merchandise [system] using a set of microservices, modern architectures and new ways of working.
"We really want to deliver better outcomes and experiences for our customers, and this is going to take us on leaps and bounds."
Fagan spoke against the backdrop of a slide that suggested while Kmart's immediate goal was to "virtualise the mainframe", its ultimate goal was to "strangle the mainframe out of existence".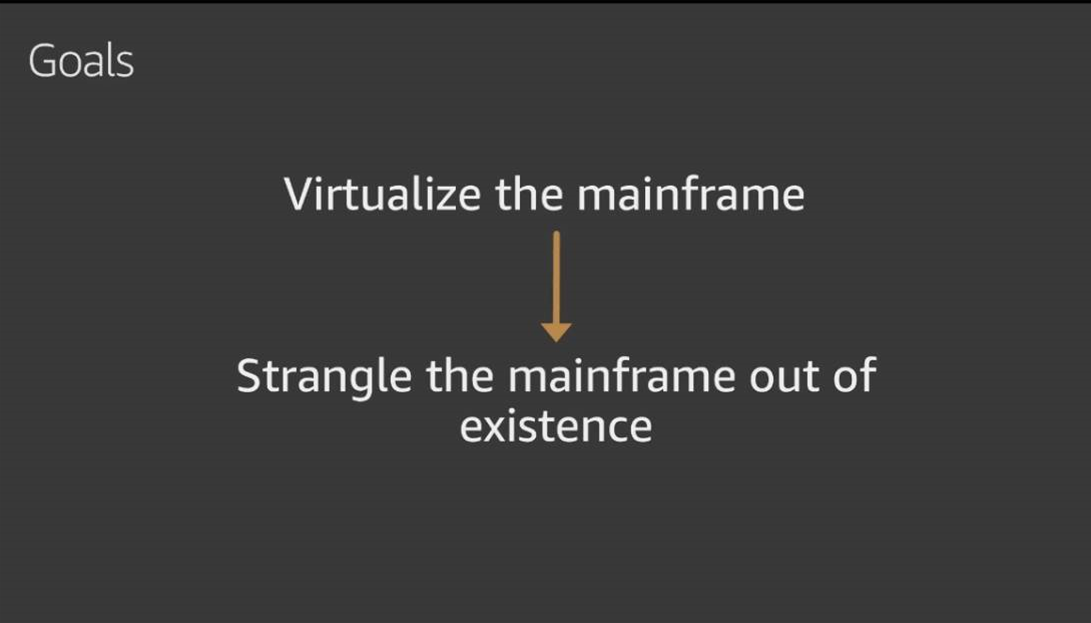 Fagan said that the question he was most often asked about re-platforming onto AWS went to Kmart's comfort level in paying a company whose e-commerce arm is a competitor for retail sales.
"Probably the number one question I get asked is 'the A [in AWS] stands for Amazon, so why are you dealing with a competitor?'
"Amazon is a retail force worldwide and probably one of the best retailers in the world, and we've got aspirations to be one of the best retailers and build a world-class retail organisation.
"If you want to compete with the best, then you have the best people and should be using the best tools, and the AWS toolset - and the breadth and depth of services that AWS provides - is world-class.
"We've got our eye on bigger ambitions and we want to use the best tools and resources that are available to us."