Michael Harte, CIO and Group Technology Executive at the Commonwealth Bank has been crowned CIO of the Year at the iTnews Benchmark Awards.

Harte was honoured at the iTnews Benchmark Awards ceremony held at Melbourne's Grand Hyatt.

In attendance were some 120+ CIOs from Australia's largest organisations, enjoying the Gala Dinner for the CIO Strategy Summit.

The Awards ceremony highlighted the 15 best IT projects of 2012 across the financial, government, industrial, retail and utilities sectors.

The Commonwealth Bank's core banking modernisation project was judged ahead of standout projects from finalists Credit Union Australia and ING Direct and entries from all the major consumer banks.

Harte ultimately received the highest number of votes from both iTnews' judging panels and from his CIO peers.
CommBank CIO Michael Harte
Brett Winterford, iTnews Group Editor told the audience that the award recognised Harte's perseverance, commitment to innovation and "blazing a trail for others to follow."

The Commonwealth Bank's core modernisation project was the culmination of five years and a billion dollars of work to replace technology that touches all of the bank's customers and staff.

It has delivered real-time banking to customers and led to reduced downtime of CommBank services, a rationalisation of products and processes, increased customer self-service and faster speed to market for new financial products.
"It is a very great honour for the entire Commonwealth Bank team, and especially those who have worked for the Core Banking Program to be even nominated," Michael Harte told iTnews. "I am privileged to work for an organisation which sees the application of technology as one of its key strategic goals. And more importantly I have the best group of people around me, who really are focused on delivering to our customers.
"We are grateful for the accolade and the recognition particularly given the calibre of the competition."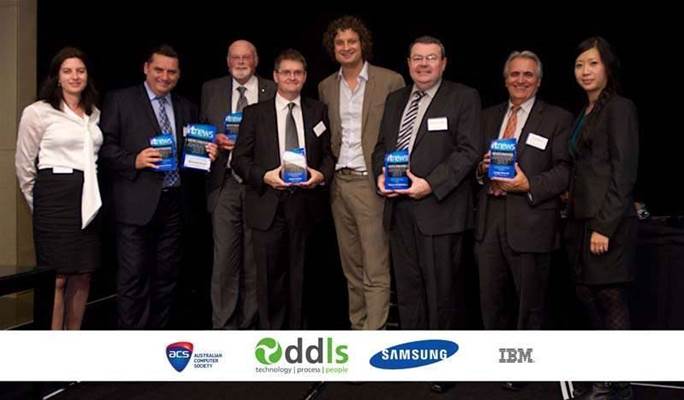 Other winners on the night included:
FINANCE CIO OF THE YEAR
Michael Harte, CIO and Group Technology Executive, Commonwealth Bank

GOVERNMENT CIO OF THE YEAR
Greg Farr, Group CIO, Department of Defence

INDUSTRIAL CIO OF THE YEAR
Jason Cowie, CIO, Calibre Global

RETAIL CIO OF THE YEAR
Wayne McMahon, CIO, Domino's Pizza

UTILITIES CIO OF THE YEAR
Leigh Berrell, CIO, Yarra Valley Water