There is no app for ensuring your plane leaves on time. But when it comes to making your journey as smooth and as enjoyable as possible, take a look at these five apps for iPhone and you can't go wrong! (volcanic eruptions excluded).
1. Tripit
One of the most valuable is a nifty little number that helps you keep track of all the documents you used in planning how to get there. Whilst some airlines have began sending ics files to your calendar as part of the booking process (take a bow Virgin), most rely on you printing itineraries and filing them in your travel bag along with your hotel details, car hire directions and paracetamol (there are two kids in the car with you).
Not so with tripit.
All your planning needs are taken care of with a simple email to a central email address plans@tripit.com and some lovely bot magically transforms it and sends it to your app. That's right folks, EVERYTHING from hotel confirmation, flight details, meetings the lot. Peter Privacy may not love it, but you have to say it makes it effortless. No cut and pasting, no chasing documents.
Best of all Tripit is free. You can subscribe to a yearly service that sends you travel alerts, finds alternate flights and helps you stay connected with colleagues.
2. City Maps2Go
Now I love the GPS and maps on the iPhone. But isn't it annoying that when overseas you are reticent to use your maps because of the frightful data bills? (Cue the story of the American Mythbusters presenter in Canada who racked up $11,000 US in a few hours surfing the web).
Who really needs GPS when you are local? I know where I live! I want it when I am in unfamiliar territory, like when I am overseas.
Well, it's still not perfect, but we have a solution in off line maps like City Maps2Go ($2.49)
This app allows you to still use your GPS but combine it with pre-downloaded maps that do not require a network connection.
Now it does have limitations, as you may visit a city you did not pre-download, however it is a great solution given the price of roaming. In addition it still has search enabled for street names and points of interest.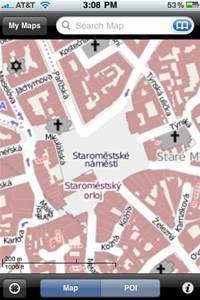 Runner up in that same category is OffMaps which is $2.49 but charges individually for more detailed maps.
3. Lonely Planet
OK. So we are in our destination. Where do we go?
Again, we would love to use the phone to do some searching but we're either being slugged for roaming again or paying overpriced hotel rates. But you don't need to worry about that with the Lonely Planet series.
They have most content downloaded into the app, so again roaming is limited, and you are clearly told when data charges are needed.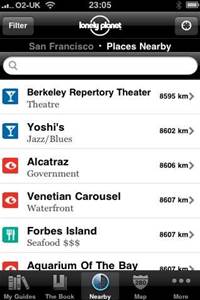 The Lonely Planet series is normally a little pricey at $12.99 or $18.99 but they are currently running a volcano promotion and selected city guides are FREE!
4. XE currency converter
Currency conversion issues? Until it is integrated fully into tripit above, XE currency has it covered.
Again it works offline, and whilst it may not give you the exact rate for that very minute, it clearly states it was updated the last time you were on line. Currency XE is also free.
5. iSpeak
Finally, whilst in my experience the Australian accent never fools anyone, you can try out your best French with the iSpeak series of translation apps.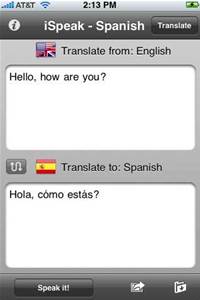 This app, available for $2.49, does a first class job of initially providing the translation from English to your chosen language. It can rather brilliantly provides an audio clip of the translation so your taxi driver can hear just how horrified you are at the price of fare from Charles De Gaulle.
I prefer "vous le fils d'une chèvre orphelin de mere" if you dare.