Major popular Internet locations such as Reddit and Foursquare went out this morning thanks to an issue affecting Amazon's Elastic Cloud Compute in North Virginia, United States.
Cloud application platform site Heroku reported "elevated error rates" and set its application programming interface in read-only mode while engineers worked on recovering the databases affected by the outage.
Construction game Minecraft — with over ten million players — is unreachable currently, and
Reddit
,
Foursquare
,
Airbnb
and
Pinterest
are notifying users via tweets that their sites are down.
The outage started at 10.38 am Pacific time, Amazon said, with the degraded performance being reported for a small number of Elastic Block Store (EBS) volumes in the US-EAST-1 region.
However, the problem has progressively worsened with degraded EBS performance. New launches of EBS-backed instances failed, Amazon noted.
At the time of writing, Amazon is reporting delays in Cloudwatch metrics and increased error rates for its CloudSearch in North Virginia.
Amazon engineers are working on recovering the impacted EBS volumes.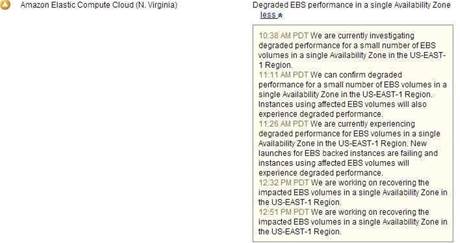 Amazon AWS status page
A similar outage in June this year caused widespread disruption to Internet sites and services, with Amazon being criticised for taking too long to bring back AWS online.