Good as Apple computers are, there are times when even the most ardent Mac user needs to [gulp] run Windows.
It might be due to a legacy app, or to try out a new version of Windows, or to provide support for employees using Microsoft-ware.
Enter the recently released VMware Fusion 6, which has now been released as a 'Professional' version on top of the more retail oriented Standard version, following the company's strategy from the earlier version of the hypervisor.
With out IT admin hat on we set out to ask: Can Fusion deliver, in a virtual machine, a good enough Windows experience on a Mac that you can forego dual-boot?
After trying out Fusion 6, we're inclined to say that the few cons of running a Windows client operating system in a hypervisor are easily weighed up by the pros of easy management and deployment. VMware has polished its offering considerably, making the user experience near-native.
Beyond a few edge-cases - games and graphics applications and the odd exotic device - VMWare Fusion 6 blurs the lines between Windows and OS X to such a degree that you might consider kissing the dual-booting of a Mac goodbye.
For our review we tried out the Professional edition, which as the name suggests comes with several features over and above those found in the more consumer-oriented Fusion 6 Standard version, many of which would be of interest to IT professionals, including:
Expiry dates for virtual machines you have deployed and 'single VM mode' to limit what can be done with the systems.

Linked clones that allow you you test different configurations for virtual machines without having to duplicate them, saving a great deal in disk space.
Fusion 6 Professional offers fine-grained controls and policies to securely deliver Windows apps to Mac OS X desktops, even those pesky old XP apps that your team hasn't got around to remediating just yet.
The product also support bring your own device scenarios as it comes bundled with VMware Player 6. That might prove handy should you want to run restricted virtual machines for external contractors, for example.
Fusion 6 Professional supports large-scale deployment with Apple config tools such as System Image Utility and Netinstall and third-party tools like LANRev and Casper. Volume key licensing is also available.
Fusion 6 also supports Ubuntu Linux and can run virtual machines created by VMware Workstation and Player, making it an attractive option for the virtualisation virtuoso needing to test these in non-production environments before deployment.
Getting started
Installing Fusion 6 was quick and easy on my first test machine, a late 2013 Apple iMac 27" with 8GB of RAM and an Intel Core i5 processor clocked at 3.2GHz running OS X 10.8 Mountain Lion. VMware lists Fusion 6 as compatible with Mountain Lion's successor (OS X Mavericks), but we did not have a copy of Apple's new operating system to test this claim on.
While our test machine wasn't the top spec iMac, it should be ample enough to run a host OS and a few guest virtual machines.
If you plan to run multiple virtual machines frequently with demanding operating systems, I'd recommend having at least 16GB RAM to give them some breathing space. The performance limiters for Fusion 6 appears to be the amount of memory and disk speed rather than processing power. The Western Digital WD10EZES 7200 rpm disk in the iMac is pretty quick, but running several virtual machines bogged down the system as they competed for disk I/O. This was made worse as I got close to the 8GB limit of the host system.
To illustrate: I found that an SSD-equipped Macbook Pro from 2012 was far more responsive than the iMac, with several virtual machines running and handling the disk I/O. The trade-off, in my scenario, was that I had far less space to store them.
While Fusion 6 grows the disk files as needed to the specified maximum (40GB by default for OS X, 60GB for Windows 8.1) and doesn't use space until it is required, you can still find yourself with very large files, several gigabytes in size, to store.
In any case, installing virtual machines in Fusion 6 is very simple: obtain an image file or optical disc, and a few clicks later, the installation is in full swing.
Once they have been set up, Fusion 6 provides an Apple-style preferences panel that allows you to set various features for virtual machines, add (virtual) hardware and choose how many processor cores and memory each can consume.
You can also configure virtual machines at the time you create them via the 'customise settings' option, instead of reconfiguring them afterwards.

What's missing is an easy way to set up a template with your own preferred configuration to reuse later.
Overall, the configuration process works fairly well, but resizing virtual disks on both new and existing virtual machines can be a lengthy process on standard physical hard drives.
Hardware support: good!
VMware has upped the resources available in Fusion 6 considerably from Fusion 5: the number of virtual CPUs has doubled to 16, and each VM can have eight terabytes of disk (up from two in v5.0) and 64 gigabyte of RAM (up from eight gigabytes in v5.0). It's a big step up.

The product supports USB 2 and 3, and gives users a choice of attaching devices to the virtual machines or the host system.
This works for iPhones as well, which means you can pair different devices to different virtual machines. Clever.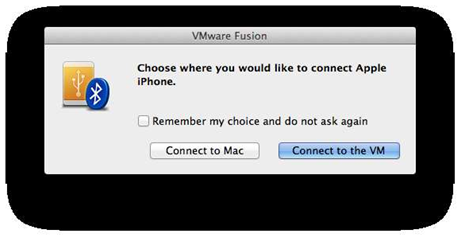 ... but there are a few limitations
Fusion 6 does provide 3D acceleration which is used by many applications to draw graphics on the screen. This works reasonably well in Windows 8.1, which sees a virtual graphics adapter with DirectX9.0c capabilities, and support for Shader Model 3 support and OpenGL 2.1.
Linux also gets OpenGL 2.1 for 3D acceleration, but not OS X. This caused a surprising number of apps - from third-party media players like VLC to browsers like Chrome and Firefox - to chuck a hissy fit and refuse to display certain content.

Thunderbolt and Firewire are unfortunately not directly supported by Fusion 6. But you can access these ports if the host computer recognises them and sets up the interfaces.

Read on for our scores for VM performance, running Windows 8.1, and the Unity View feature...
Hi! You've reached one of our premium articles. This is available exclusively to subscribers.
It's free to register, and only takes a few minutes.
Once you sign up you'll have unlimited access to the full catalogue of Australia's best business IT content, as well as a daily news bulletin delivered straight to your inbox.
Register now
Already have an account? Log in to read this article.