Telstra today closed its nowwearetalking website, stating it would launch a new "corporate" blogging site later this year.
The nowwearetalking website was used by Telstra staff to comment on issues they saw as important topics to place in the public arena for discussion.
The closure of the web site met users with the following [click to launch].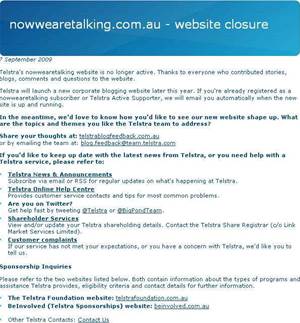 A Telstra spokesman refused to comment on Telstra's reasons for closing the web site.
"... our innovative experiment in customer and stakeholder communications, nowwearetalking, has been retired after four exciting and sometimes controversial years," the spokesmen said.
"The end of NWAT will not mean the end of Telstra's online outreach - far from it," he said. "We're putting together a more engaging, interactive site under the main telstra.com umbrella."
"We've learned a lot through nowwearetalking.com.au about the online conversations we can have with our customers and stakeholders and it will continue to be a major part of our relationship."