Brisbane will be home to the largest Australian-owned research and development (R&D) facility for enterprise software after TechnologyOne opens the doors to its new $12 million international headquarters today.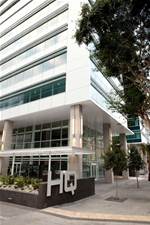 The Brisbane R&D centre
Located in the inner city entertainment precinct of Fortitude Valley, the new TechnologyOne Headquarters is a
Six Green Star
rated building that spans across 6700 square feet and will accommodate more than 400 staff.
The headquarters includes facilities such as a bike centre, a large 'Village Green' communal kitchen with games area (shown in the image gallery) and a "wellness room."

For the Queensland-based software giant, which has offices in all states across Australia in addition to international branches in New Zealand, the UK, Asia and the Pacific Rim, the new headquarters represents the consolidation of its three Brisbane offices.

TechnologyOne executive chairman Adrian Di Marco said the facility was designed to "improve collaboration and innovation for the company's 350+ software developers, who represent some of Australia's best technology talent.

"Our facilities need to be at the cutting edge to attract and retain the best IT talent in the country and to compete effectively in the global software market," he said.

"Brisbane has so many advantages. We saw no reason to move to Silicon Valley, Europe or India to compete on the international stage. We export our software internationally and every day our software successfully competes against alternative offerings from the world's biggest software companies: Oracle, Microsoft and SAP."

Plans to release a $150 million next generation platform

Di Marco said the move to the new R&D centre would allow the company to commence the development of its next generation of enterprise software, which is code named 'Next Gen' and is projected to cost $150 million.

"It will follow the success of TechnologyOne's Connected Intelligence platform, released in 2005, and now used by more than 800 of Australia's largest corporations, government departments, universities and utilities providers," Di Marco said.