The Attorney General Michael Atkinson has promised to repeal a law that banned anonymous comments made about election issues or people.
In a statement to South Australia news site Adelaide Now, Atkinson said "the blogging generation believes that the law supported by all MPs and all political parties is unduly restrictive... I will immediately after the election move to repeal the law retrospectively."
"This way, no one need fear now that they are being censored on the net or in blogs, whether they blog under their own name or anonymously," he added.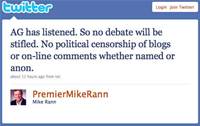 Atkinson's statement last night was followed by a tweet from SA premier Mike Rann, who said: "AG has listened. So no debate will be stifled. No political censorship of blogs or on-line comments whether named or anon."
The controversial law (PDF) seemed to require any comments about election-related issues or people to include the name and address of the person responsible for those comments.
Privacy, legal and security experts all agreed that the law was not only unenforceable, it might also have put voters at risk from cyber-criminals, who thrive from collecting personal information.
Before Atkinson's u-turn, legal expert Kay Lam-Beattie, principal of Idealaw, told iTnews that the law was confusing and its wording unclear.
Lam-Beattie said if the law had been fully enforced, it would have required publications such as iTnews.com.au to:
Get peoples' names and addresses if they're posting comments
Post relevant names and postcodes to individual comments.
Store those details for six months
Alternatively, the publications would have to block traffic from South Australia.