Prime Minister Kevin Rudd has announced the first three regional towns that will be connected as part of the Federal Government's $43 billion National Broadband Network (NBN).
Smithton, in Tasmania's northwest, Midway Point, a coastal haven northeast of Hobart, and Scottsdale, an inland town northeast of Launceston, will be the first towns connected under the Tasmanian NBN plan.
All three towns in Tasmania lie outside of the state's major cities, but with a combined population of 5000 fall within the intended coverage area for the fibre component of the NBN, which - when completed - will cover 90 percent of Australia's population.
Both Smithton and Scottsdale are based in marginal Federal seats (Braddon and Bass).
Fibre optic transmission links will be built from Port Latta (on Tasmania's northern coastline) to Smithton.
Scottsdale will be connected via fibre optic links to George Town (on Tasmania's northern coast) and St Helens (on the island's north-east coast).
Midway Point will be connected via links to Cambridge (to the South West, towards Hobart) and Triabunna (to the North East, towards the Freycinet Peninsula).

Most of the fibre optic links required are already built (see maps below).
The Prime Minister announced the Tasmanian NBN Co, a joint venture between the Federal Government's NBNCo. And Tasmanian utility Aurora Energy, will "start feeding the first fibre optic cable into the trench in August", "start digging new trenches come October" and be "connecting the first home come the end of the year."
"Our plan is to turn services on come July of next year," Rudd said.
The Prime Minister made the announcement at the opening of Aurora Energy's NBN Data Centre in Hobart, which is expected to house the support systems for Tasmania's NBN rollout.
Rudd said the Federal Government was "keen to demonstrate that people in regional centres in Tasmania, across the State, get the earliest possible access to these services."
"These communities will be the first to be able to receive broadband speeds of 100 megabits per second and over 50 times faster than that used by most people," he said.
"To support this rollout we will build backbone fibre optic cables in five locations.
"Why are we starting in Tasmania? Because Tasmania has a longstanding disadvantage in accessing high speed broadband and is the logical test bed for this nation building project for the future."
Rudd said he expected the Tasmanian NBN rollout to lead to 40 or 50 new jobs in its initial stages, with "hundreds of jobs" coming from the NBN rollout and "thousands" more as an indirect result of the new network.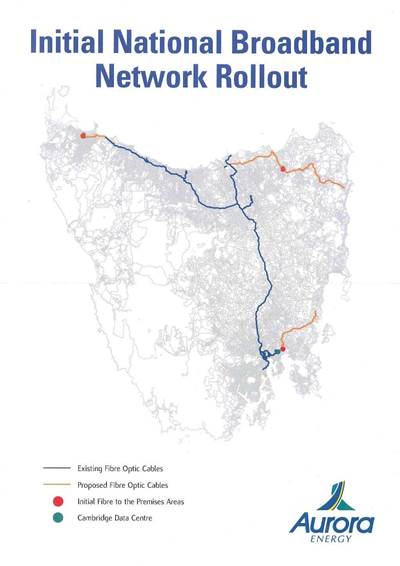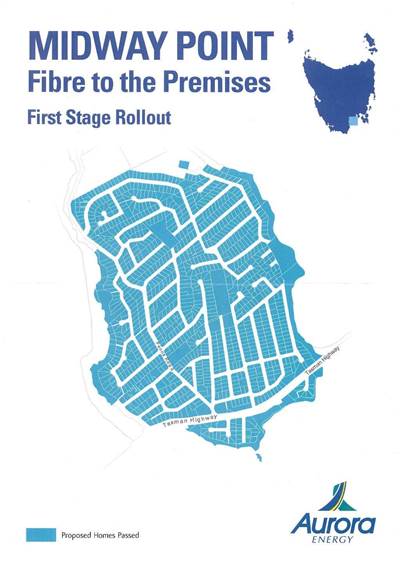 ALL MAPS COURTEST OF DIGITAL TASMANIA