When Dell offered to show PC Authority its new Streak tablet, we weren't expecting the kind of device that they arrived with.
Thanks to the hoopla about Apple's iPad, we expect a tablet to be similar in size and functionality, much like ASUS' EEE Pad or HP's now-cancelled Slate.
Rather than being this slightly unwieldy size, the Dell Streak is much smaller. It uses a 5-inch touchscreen, which makes it look more like an oversized smartphone than a fully fledged tablet. In fact, it is an oversized smartphone - it packs a 1GHz Snapdragon processor, runs Android and is perfectly capable of making and receiving calls.
But it seems more than just this. The 5-inch screen really does elevate the streak into a more functional realm than you're average smartphone. This should be especially noticeable if you want to go heavy on media playback and internet browsing. The extra screen real-estate really enhances the browsing experience and also makes movies a lot more pleasant to watch than on a smartphone screen.
While the screen does give a better experience, it does without the inherent tradeoffs that come with a larger sized tablet. While large, it happily fits into a jacket pocket, making portability possible without resorting to some kind of gender unspecific handbag. Dell were keen to point out that it isn't much different in size to mobile phones of a few years ago, and while they didn't let us photograph it next to an iPad or HTC Desire, you can see that it is just larger in dimension than a AU$10 note.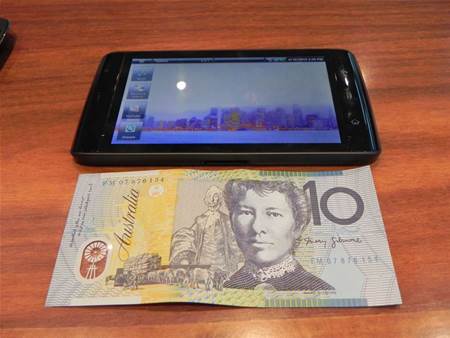 The Streak is slightly larger than a $10 note and is dominated by the 5in LCD screen.
Like most 'tablets' on the horizon the Streak runs Android. In this case it is 1.6, but Dell promises an over-the-air upgrade path straight to 'Froyo', otherwise known as Android 2.2. To this end Dell has avoided skinning Android - the sum total of changes to the OS revolve around rounding icon edges and the like. This is an interesting selling point for the Streak, and differentiates it from many smartphones, which are seldom upgradeable to the latest version of Android.
At the moment the Streak is available in the UK, but hasn't been released elsewhere. Dell is currently working out its plans for the device in Australia. The sample we saw was running on the Telstra Next G network, but we were assured that there have been no decisions made as to which telcos will be selling the Streak. The same goes for pricing, which has been yet to be worked out here in Australia.
After our brief time playing with the Streak we are quite keen to get one into the PC Authority labs. By combining the convenience of a phone, large screen size and unadulterated Android this could well be a device that makes Android shine. By designing the product around browsing first and telephony second Dell has created a point of difference, and the end result is a product that straddles markets but stands out in its own right.