Competition could be looming for the Southern Cross Cable that carries the majority of Australia and New Zealand's Internet traffic, if a group of New Zealand hi-tech business people behind a second fibre-optic link get their way.
Pacific Fibre has announced plans to build a new international link between Los Angeles, Auckland and Sydney, with potential expansion plans to Perth and Singapore.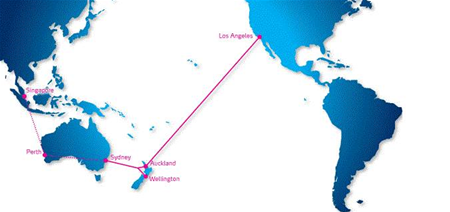 Caption: Pacific Fibre
The Internet industry luminaries behind Pacific Fibre are Rod Drury of SaaS accounting site Xero, Sam Morgan who founded auction site Trade Me and Mark Rushworth, a Telecom New Zealand, ihug and Vodafone veteran.
Sir Stephen Tindall of The Warehouse and backer of wireless ISP Woosh, John Humphrey, formerly of IPSTAR satellite system and management consultant Lance Wiggs - who advised on the sale of Trade Me to Fairfax for NZ$750 million - are also listed as founders of Pacific Fibre.
Rushworth says the new cable will compete head-on with the existing Southern Cross Cable System (SCCS) on price and performance. By utilising newer technology with no hops between Auckland and Los Angeles, Rushworth says the Pacific Fibre cable will have substantially lower latency than the SCCS. This in turn will make it more attractive to customers with demanding real-time applications such as banks and financial institutions.
The cable is estimated to cost just under NZ$900 million Rushworth says, and the goal is to complete it in three years' time. The proposed capacity of the Pacific Fibre cable will be 5.12 Terabits per second and this can be upgradeable to 12 Terabits per second.
Initially, the Pacific Fibre cable will run from LA - Auckland - Sydney with a leg to the NZ capital Wellington.
However, Rushworth says that as part of a second phase as suggested by interested parties to Pacific Fibre, a Sydney - Perth -Singapore leg is being considered, to improve connectivity to Asia.
Internet entrepreneurs Drury and Morgan have been vocal advocates of better network infrastructure and lifting of meagre data caps in New Zealand, and Rushworth says he hopes Pacific Fibre will enable just this by lowering international data transit pricing.
"With around 90 per cent of NZ traffic going to the US, international data pricing is a major reason for the low data caps here," Rushworth says.
State-owned enterprise Kordia, that operates in both NZ and Australia was quick to welcome the Pacific Fibre initiative.
CEO Geoff Hunt says Kordia has been talking to Drury and the other founders over the past few months, and says it will team up with Pacific Fibre.
Kordia is currently proposing to build a trans-Tasman link, the PPC-2, that connects to Pipe Networks in Australia.