Pipe International has called on the communications regulator to relieve congestion in the undersea corridors for submarine cables by opening a third "protection zone" in New South Wales waters.
Speaking at the Australian network operators group conference in Sydney, Pipe chief operating officer Brett Worrall said one of the zones, located on Sydney's northern beaches, was "pretty full at the moment".
Worrall said landing Pipe's PPC-1 cable in that zone had been difficult because of a "very tight landing point" between two existing cables.
"We really struggled to get PPC-1 landed and with a lot of help from AJC [Australian Japan Cable], and Southern Cross (Cable), we all agreed on how we would cross [paths]," he said.
The Australian Communications and Media Authority has designated two "protection zones" for undersea cables in NSW.
The northern protection zone covered an area between Narrabeen and Collaroy in Sydney's north while the southern protection zone was located in Sydney's eastern suburbs. Each zone extended at least 30 nautical miles offshore.
Activities in these zones that could damage the cables, such as trawling or dredging, were prohibited or restricted.
Penalties included fines of up to $66,000 and/or ten years imprisonment for an individual, or up to $330,000 for a corporation.
Pipe's PPC-1 cable between Sydney and Guam was the fifth subsea cable to enter the northern protection zone. The Australian Japan Cable, Southern Cross Cable, GONDWANA-1, and the Australian Papua New Guinea 2 were also laid in the same corridor.
Carriers were permitted to lay cables outside of protection zones but were liable for any damage caused by other ocean users.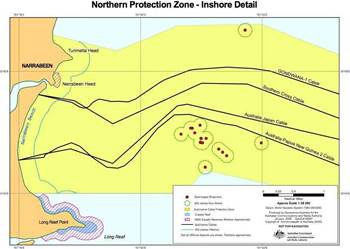 The current northern protection zone
Source: ACMA
Worrall said the level of congestion in the NSW northern zone would restrict future operators from landing cables there.
He did not favour retiring older cables to free up space, believing more certainty for potential operators was required.
"You could probably look at retiring other cables and using their slot, but I think it's getting close to the point where the ACMA needs to think about where their next eastern protection zone should be," he said.
"To actually lay a cable in someone else's slot you basically have to recover a piece of the cable, cut it, and then re-lay over [its path].
"I think from an investor or operator point of view there needs [to be] more certainty around how this process is going to work in the future".
Current legislation allowed the ACMA to declare submarine cable protection zones in Australian waters over cables deemed to be of "national significance".
In addition to the northern and southern protection zones in NSW, the ACMA has declared a zone near Perth in Western Australia around the SEA-ME-WE3 cable.