Australian organisations are "bloated" with orphaned applications that are draining IT budgets, according to Andy Kyte, vice president of Gartner research.
At the Gartner Symposium in Sydney yesterday Kyte said that dealing with orphaned applications should be on every IT manager's agenda next year.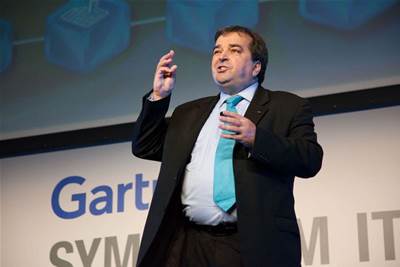 Andy Kyte, vice president and a member of the Gartner application strategy and governance team
Kyte said IT managers had focused on modernising technology infrastructure, reducing energy consumption in the data centre and automating routine operational activities this year.
But those activities were "politically safe" tasks, he said.
IT managers needed to refocus on bigger issues next year, including "bloated" applications portfolios which Kyte described as "the elephant in the room".
"When it comes to applications the reality is that business and technology leaders are very happy to engage in the process of acquiring new applications," Kyte said.
But the constant additions had the potential to weigh IT managers and the organisation down in maintenance and complexity issues.
He likened it to a parenthood analogy in which IT managers weren't interested in "responsible parenting" of their applications.
"We're really just interested in making babies," Kyte said.
The result was "hundreds and thousands" of orphaned applications "that wander the corridors of your enterprise going up to any adult they see and saying 'are you my daddy, are you my mummy, will you look after me'."
Can you really afford to buy?
One reason application portfolios were bloated was that vendors had learned they could sell them directly to business users, bypassing the IT department on purchase decisions.
But IT often wore the ongoing costs of running that piece of software over its lifecycle, which could be as long as 15 years.
Kyte produced Gartner research figures that showed the "go live" cost of a piece of software was just eight percent of the total cost of the software over its lifetime.
The research also showed that application portfolios had an annual compound growth rate of between four and seven percent.
"So when the business users say they can afford the application they're buying they're talking about the down payment, they're talking about that eight percent," Kyte said.
"Who's responsible for funding and making sure you get the best value from the other 92 percent? The answer is nearly always that it's somebody else."
Kyte urged attendees to revise the template they used as a business case for new investment.
"[Ensure it] shows the total lifetime cost of ownership, not just the cost of the project," he said.
"[Clients] sort of look at me strangely and say: 'Andy, if we told them what it was going to cost they wouldn't do it', he said. "And I say: 'duh'."
Budget sink
Kyte urged IT managers to decommission and retire applications that were "no longer of value" so that resources could be redeployed.
He also encouraged managers to make someone in the organisation accountable for the value of applications.