The BBC delivered more than 2.8 petabytes of video data to viewers on a single day during the London Olympics, in what the broadcaster said was record data traffic from users.
Traffic was highest during the men's individual time trial cycling race, hitting 700 Gbps, according to Cait O'Riordan, head of product for BBC Sport and the Olympics.
That 2.8 petabytes of video data, delivered on a single day, exceeded the entire online traffic for the coverage of the FIFA World Cup 2010 football games.
O'Riordan said the BBC counted 106 million requests for Olympic video across all online platforms. In comparison, its TV coverage for the Olympics reached 51.9 million people.
Content was delivered to computers, tablets, mobie phones and connected TVs, with usage of these devices differing throughout the day.
People watched the Olympics on computers at lunch time and mid-afternoon during weekdays, British time, but shifted to mobile phones around 6pm as they left their work places.
Tablet usage peaked around 9pm in comparison, as they were used as second screens in conjunction with TVs, and for bedtime viewing.
There were 12 million requests for video on mobile, and O'Riordan said people used the BBC's app regularly.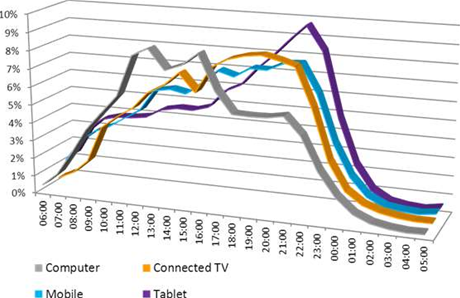 Source: BBC

According to a comScore survey, the number of people in the UK and the US accessing sports on portable devices almost every day rose by 41 percent in just a year.
BBC's figures were also exacerbated by international viewers attempting to view BBC's broadcasts from overseas due to dissatisfaction wiith their own country's coverage.
The Australian Olympic Committee had similarly geared up for record web traffic to its own site prior to the games, redesigning its web infrastructure to tap a "pre-warmed" pool of cloud resources in case of any unexpectedly heavy traffic.