RFIDs or radio-frequency identification tags, have been around since the early 1970s. In 1973, the first 'modern' RFID device of its kind was demonstrated in New York as a toll device and ever since, RFIDs have slowly morphed from simple data collection systems and useful transport trackers into fully-fledged payment methods.

Today, RFIDs figure prominently in Australian industry circles, including the transport, packing and retail industries. But as a form of payment? Not so much.

Presently in Australia, you'll be hard pressed to find a way to pay with RFID, outside of a couple of 'smart states' in Australia, including South Australia and Victoria (myki card), where public transport smartcards already exist, but offer few other benefits as a cashless system for paying for other services not related to public transport.

But that's not for a lack of trying: in 2006, MasterCard ran a six month trial where 35,000 Commenwealth Bank customers took advantage of special RFID PayPass enabled cards. Card owners were given the chance to pay for transactions under $35 without showing personal I.D - in an attempt to speed up the smaller purchases made on a daily basis by many of us.

Not surprisingly, the trial was not a big success (or we'd be seeing more of the payment technology with us today) and was marred by security concerns over the safety of the card data.
Then there's the recent trend towards E-tags as a way of paying for bridge and highway tolls across the country. They've been a big hit - if only because state governments have made it compulsory to use.

But aside from the cashless toll systems now in place, Australian's don't have much experience with RFID payment systems - yet.

In fact, many of us are perfectly unaware of the potential for RFID e-payments, turning the flick of our mobile phones or smartcards into an alternative method of paying for everyday goods and services.
Looking towards Asia
You only have to look at Japan to see how it's really done: Japan's Suica card is more than just a mere 'smartcard', it's also an entire payment method. But it didn't start that way.

Like the UK's much talked about Oyster card RFID, which is used as a transport payment method, the Suica card is produced by the East Japan Railway Company (JR East) for a similar use: as a form of payment to cover much of the subways, buses and trains in the Greater Tokyo, Sendai and Niigata regions of Japan. But there's more to it than just that.
While Sydney still waits for its MyZone smartcard to be implemented and other states in the country debate the requirements and security risks of RFID based health care cards, barriers such as the the escalating costs of such transport RFID systems continue to make it hard for any such RFID payment system to take off, let alone a transport card.

That's why the Japanese Suica card is already eons ahead of what's available in Australia, because commuters are not just stuck with a vanilla bus or train smartpass, but a versatile payment card which can even be adpated for use within mobile handsets.
The Suica card can be used to make purchases at a number of stores and kiosks within the actual train stations, in addition to airports and even taxis. As of 2009, there were more than 28 million Suica cards in circulation in Japan, giving credence to the cards as viable alternative payment methods, instead of being relegated as a 'smartcard fad'.


Paying with your Suica card. Image credit:
LeonJo.com
Similarly, Hong Kong's very successful
Octopus card
and Singapore's
EZ-link
are also good examples of transport/e-payment hybrid smartcards. The Octopus card, which has a number of a partner merchants signed up to the program, is responsible for 10 million daily transactions, worth around HK$29 billion a year.
The Octopus card is ironically designed by Australia's own smartcard company,
Vix ERG
. Yet we we can't get a similar e-payment system using RFIDs of the ground here.
Paying with your phone
There's also a mobile Suica application, where phone users can pay for products using a phone (with an RFID embedded in the handset), rather than dealing with the worry of forgetting your card.

Sony-designed and patented Felica RFID technology is perhaps even more developed than the Suica cards and is also used as the principle technology in Hong Kong's Octopus card.

Felica enabled mobiles not only have the ability to purchase public transport tickets, but numerous in-store and ecommerce transactions across Japan. It's also used in conjuction with student IDs on Japanese campuses, when students wish to make everyday purchases at universities.
And for that cashless fast food fix without a coin in sight, Japan's McDonald's restaurants have started a 'Contactless Coupon' loyalty and payment scheme in 3,800 of its stores across the country, which also use Felica RFID payments.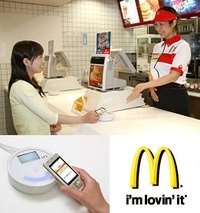 I'm loving it: paying for food with your mobile.
Customers can purchase meals and redeem coupons by scanning the phone over a special RFID reader at the register. In a sign of how big this trend could get, Coco Cola already has 200,000 vending machines equipped to handle RFID enabled mobile phones in Japan.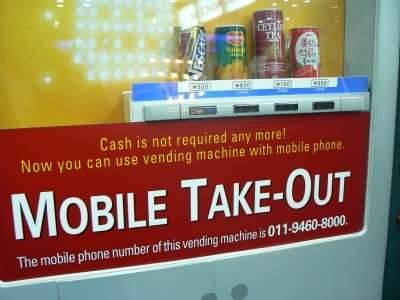 Paying for food with your mobile - not so futuristic in Japan
RFID payments during Carnivale?
It's not just the Japanese making use of RFID payment technology. In a trial in Sao Paulo, Brazil, last year, one of that country's largest (and not surprisingly, unnamed) financial institutions experimented with RFID scanners embedded in mobile phones and linked to the customer's credit card.

The test was setup so customers could use the ultra high-frequency (UHF) tags in four San Paulo stores across the city. RFID tags were embedded in adhesive stickers attached to the products. Think of it as a barcode, that upon being scanned with a mobile - links directly to your credit card account.

Potential security risks

Some security consultants argue that RFID payment methods are not going to replace credit cards and cash on a wider scale until governments and corporations can find better ways to ensure that data on RFID cards is not at risk from criminal interests.

There are a number of reports demonstrating the relative ease of 'skimming' RFID data in public places, which allows people with the right equipment to 'steal' people's information and credit. However, some RFID advocates argue that this is unlikely to happen; even though many are not entirely convinced the security threat issue is quite so easy to dismiss.

Some vendors have tapped into the growing unease with RFIDs and found a market niche waiting: anti-RFID wallets and shields, which repel the radio frequencies used to identify RFID tags more commonly found in credit cards and everyday consumer products are now hot button items among concerned citizens intent on maintaining privacy.
If you're interested in learning more about RFIDs, we have covered them in some of the following other stories, including locating your pets and other security issues: