Internet Industry Association (IIA) chief Peter Coroneos has rejected calls from Communications Minister Stephen Conroy to resume ISP 'code of practice' talks in the wake of iiNet's victory in the Federal Court last week.
Describing Justice Cowdroy's decision to exonerate iiNet a "very comprehensive statement as to where liability begins and ends," Coroneos told a meeting of ISP and legal experts on Tuesday night that he did not see a code of conduct as the most appropriate next step for the industry.
"The IIA does not condone copyright infringement and will continue to push for new commercial models in which content is accessible and affordable," he said.
"Senator Conroy called us for a reinstatement of discussions around an industry code of practice. But we think it is premature to consider if it is an appropriate next step for us."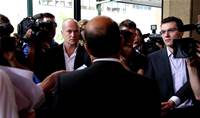 Coroneos speaking to media after the iiNet vs AFACT judgement
Coroneos said that Justice Cowdroy's momentous decision was required to give intermediaries such as telcos and ISPs some legal clarity around their responsibilities.
"For the record, our discussions around an industry code of practice were not terminated because of the trial," he said.
"Rather, the trial was required for discussions to continue. Discussions were on foot when we reached the view that our disagreement was so great, we needed the benefit of a judicial finding to move forward. We also did not want to prejudice iiNet's interests or the findings of the court."
Simon Hackett, CEO of Adelaide-based ISP Internode echoed Coroneos' comments in a column in Business Spectator today, saying that the piracy problem "doesn't need another darn industry code of conduct, Senator Conroy.
"Industry codes are a tool to be used by cooperative people to solve a problem cooperatively.
"That isn't happening here," he said, referring to the film industry's refusal to work with ISPs to offer content on an affordable and accessible basis. "At least, not yet.
"What AFACT needs to do is to put away the stick and starting using a carrot."
ACTA: the next challenge
The IIA will now meet the Department of Foreign Affairs and Trade (DFAT) on Friday to discuss the next challenge for the internet industry - Australia's participation in the Anti-Counterfeiting Trade Agreement (ACTA), which have to date been held in secret.
Representatives from DFAT assured iTnews last week that a "three strikes rule", in which an ISP would be forced to cut off a customer found to have shared pirated material on more than two occasions, was not on the agenda at these talks. But industry watchers remain suspicious.
Coroneos described ACTA as "another avenue whereby traditional content industries are looking to the Government" to intervene to force ISP's to take responsibility for their networks.
"We are calling for greater transparency in that discussion," Coroneos said. "These global rules require input from intermediaries and end users."