IDC's research showed the overall server market in Australia contracted year-on-year with units declining by 38.9 per cent and revenue by 38.8 per cent compared to the first quarter of last year.
IDC reports that the x86 server market shrank to its smallest recorded figure since Q1 of 2004, erasing five years of annual growth.
Year-on-year, x86 units dropped 38 per cent, while revenue contracted 46.4 per cent compared to Q1 2008.

"The first quarter of 2009 represented the biggest percentage falls witnessed since the server market was tracked by IDC, exceeding the contraction experienced from the dotcom bust," said Matthew Oostveen, research manager, APAC Enterprise Servers and Datacentres at IDC.
"Business confidence is low and spending evaporated accordingly. The market did find some salvation in Government, Health and Education which helped prevent a deeper decline."
Despite the downturn, IDC's research showed no change to the market rankings with HP leading Dell and IBM in the x86 market.
Acer doubled its marketshare of unit shipments (from 2.8 per cent to 6.7 per cent) with success in the Education market, one of the few areas where spending has been sustained.
The non-x86 server space which includes RISC, Itanium, and CISC mainframe servers also declined with revenues contracting 26.6 per cent when compared to the first quarter of 2008.
IDC's tracker revealed that IBM remains the market leader in non-x86 servers in Australia. Despite the hype surrounding distributed computing methodologies, System Z brand continued to perform strongly.
"Looking forward the market should rebound from the Q1 slump in the second quarter, however, IDC doesn't expect to see a return to business as usual just yet. 2009 will remain challenging for vendors and the channel as businesses continue to closely monitor capital expenditure," said Oostveen.
New servers based on Intel's Nehalem x86 architecture were released to the market at the start of Q2 which will provide vendors with an opportunity to convince consumers to resume spending.
"However, even when the fog of a depressed economy lifts it will be some time before companies are spending freely again," added Oostveen.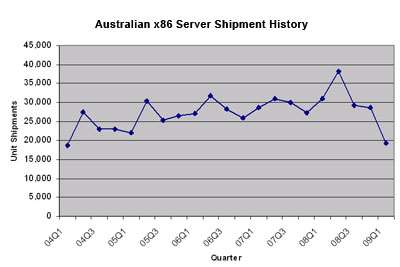 Source: IDC Asia Pacific Quarterly Enterprise Server Tracker Q109