On March 13 this year, Google technical infrastructure SVP Urs Hölzle sounded the death knell for the company's popular browser-based RSS Reader, after its seven and a half years' of existence.
Howls of outrage at Google's decision and pleas to reverse it have been ignored - a different story to that of the CalDAV API where the web provider didn't manage to stare down the angry geek hordes and decided to continue providing access to the web calendaring feature for everyone.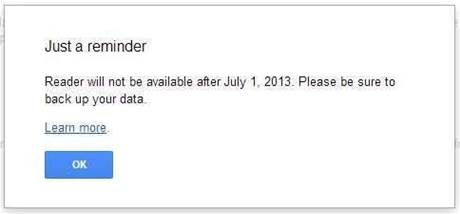 July 1 is the date when Google Reader closes for good. If you like Rich Site Summary feeds, and despite what Google tells us, lots of people do, what are your options for continuing to have the same content you're viewing continued to be pushed to you?
Export your subscriptions
First, there's still time to get your data out of Google Reader. Google says that until September this year, you can snag it from the Takeout page,
Depending on the amount of subscriptions, it can be a fair amount of data: for this writer, 238 megabytes in eight files, covering just under 700 feeds. This is compressed down, but building the archive is slow, taking roughly five hours to complete despite Google's allegedly limitless amount of cloud computing power.
The ZIP format compressed archive contains metadata such as your Google Reader followers and who you follow, the likes, notes and shares and starred posts as well.
This is known as an Outline Processor Markup Language or OPML file and is in eXtended Markup Language (XML) format. Yes, RSS is unfortunately yet another IT area riddled with an alphabet soup of acronyms.
Standalone or web?
Your OPML file can now be imported into a different feed reader. In most cases this is a painless process and you're ready after a few moments to start foraging your feeds.
The main consideration here will be if you want to use a standalone program or rely on a browser-based one for reading feeds. There are pros and cons to both approaches, but in our view, the browser-based one wins out mainly because, well, RSS is mostly about web site content so you'll be working with a browser anyway in the reader.
One thing's for sure though: if you're an Inbox Zero fanatic, don't import RSS feeds into Outlook or Thunderbird even if they both can do it. There's nothing like seeing "56,282 unread items" to make you choke on your morning coffee as you check email.
Feed the readers
Which feed reader you prefer depends on your preferences and how you use RSS. Google Reader with its clean layout, great search, feed stats, browser integration, sharing abilities and more is tough to beat, which no doubt explains why it swept the floors with RSS competitors over the years.
That said, browser-based reader Feedly has been rejuvenated by the impending Google Reader closure and is now a firm replacement favourite. Getting going with Feedly is very easy too – you don't even need to import the OPML file, but can get feeds simply by logging in with Google. The magazine style layout makes your feeds easy to read but better yet, it's customisable, so if you want a list with one line descriptions, Feedly does it for you.
Search in Feedly isn't as good as in Google Reader though and there are no stats either, but fingers crossed the developers will get around to providing that. Oh yes: Feedly is free too, at least for now and has mobile clients for Android and iOS.
A second RSS browser worth checking out is The Old Reader which has a layout similar to Google Reader. It's maybe not as feature-rich as Feedly, but arguably an easier migration from Reader and after the initial storming by all those users Google didn't think existed, now performs really well.
Your favourite browser is most likely able to read RSS feeds too, either natively or through an extension. For Firefox, try Brief or NewsFox for instance. Other browsers have similar alternatives.
RSS is an open format and if you have time, there are bare-bones readers that can be hacked into whatever you like, such as Tiny Tiny RSS. This requires a bit more effort than just migrating OPML files from one platform to another, but if the closure of Google Reader annoys you enough and you don't trust the alternatives, that's the way to go. (Hat tip: Alan Henry of Lifehacker)
What's your favourite Google Reader replacement, or have you given up on RSS altogether? Share with iTnews readers in the comments section.