Apparently there is news outside of information technology! Who knew?
So if you are looking for that news fix on your iPhone we have five of the best apps reviewed below.
1. Australian Broadcasting Corporation (news)
Price: Free
Version Reviewed: 2.1
Overall Rating: 4 out of 5
User rating : 3 out of 5
Developer: Australian Broadcasting Corporation
The first is the Australian Broadcasting Corporations news app, and it seems old Aunty has the jump on the commercial networks again.
Rather than simply making the application a slimmed down version of their website, the ABC have produced a simple, well structured news presentation tailored to the iPhone format.
The user interface is again simple, logical and fast. News is separated into the commonly used categories and with a quick scroll through the menu the user can browse through the latest breaking stories or have a quick look at the sports headlines.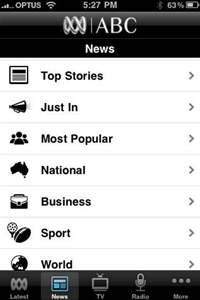 Certainly the star feature is the tailored 90-second news. Unlike any other news application, regularly updated 90 second video news bulletins are available across a wide variety of categories like News, Sport, Weather and Business.
The bulletins use the familiar ABC news desk feel from terrestrial television, including the use of a presenter.
The refreshing element to these bulletins is that the ABC had the device capabilities in mind when designing the application. Each video bulletin is around the 4Mb mark, providing capability to download even when on the 3G network, which means a quick update on the headlines is possible from the back of the cab on the way to your next meeting.
Outside of the news functions, the application also provides live streaming of ABC radio including Radio National and NewsRadio, as well as TV guides to ABC content and excerpts from popular programs the 730 Report and the New Inventors.
Although user reviews are not always perfect, complaints are largely aimed at bugs concerning listening to live audio streaming and a lot of requests for the cricket!