A cursory look at the platforms of independent members of parliament would suggest a hung parliament could favour the prioritised rollout of broadband services in regional and rural Australia.
The balance of power looks to be held by four independent members and one Green member of parliament, Adam Bandt.
One of those independent members, Tony Windsor (New England) represents a community (Armidale) announced as early mainland sites for the rollout of the ALP's National Broadband Network.
"Country Australia deserves to have the best access to services," Tony Windsor told the ABC today. "We need equity of access to those services."
Windsor said he felt regional Australia was sold short when Telstra was privatised. "I don't trust anybody on that issue," he said.
Negotiations this week will be "one way of ramming that [message] home, to make sure whoever the Government is delivers what they say they are going to deliver."
Neighbouring independent member Rob Oakeshot (Lyne) has also spoken in support of an NBN (see quotes below).
Meanwhile Bob Katter [pictured left, below] officiated the dig of the backhaul network in Mount Isa in February and has oft commented on the decline of communications in regional Australia.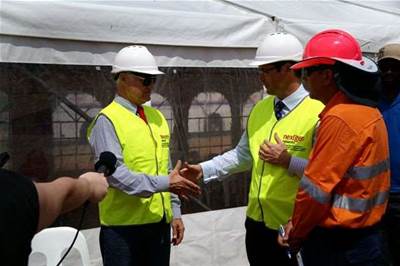 According to the web site for fellow independent Andrew Wilkie, who is close to securing a seat in Tasmania, "the National Broadband Network will genuinely provide essential infrastructure for Australia's future economic and social prosperity. It must be allowed to proceed."
The Greens have also noted a preference for the ALP's broadband plan, as well as fervent opposition to the ALP's internet filtering plans.
Ian Birks, chief executive at the Australian Information Industry Association (AIIA) said there will undoubtedly be a "focus on broadband in rural and regional areas" over the coming weeks.
"Broadband did become a mainstream and significant issue in this election," he said. "In several acceptance speeches, members recognised the broadband rollout as an issue in their electorate.
"Broadband will be a high order in negotiations over the next week or two," he said.
Today, Julia Gillard said the NBN has a "transformative power" to relieve the "pressure of distance" felt in regional communities.
Birks said the industry needed to "clearly explain the payback that can be delivered to regional and rural Australia from broadband" such as smart grids and e-Health.
Birks said that eHealth implementation, as part of broader healthcare reform and "beyond what the Prime Minister has promised", would be a key issue over the next term, as would smart grids, teleworking and ICT's role in ensuring environmental sustainability.
"As an industry, we are willing to engage with whichever party takes power to discuss the ICT agenda in detail," he said.
In their own words
In July, Independent member for Lyne Rob Oakeshot noted in a press release that the Federal Government needed to "take on the role of bridging the [broadband] gap" as "no private provider will do it".
"This is a population debate and infrastructure debate all rolled into one," he said at the time. "We will continue to centralise as a country if we don't get the NBN Co. roll-out right, and hitting the regions early is critical."
Similarly, earlier this month New England Independent MP Tony Windsor slammed The National Party for submitting to the Liberal Party's lower spend on broadband.
"When we last relied on competition to deliver telecommunication services across Australia, all the service providers focused on metropolitan Australia and left country Australians to fend for themselves," Windsor said at the time.
"Competitive service delivery went to the biggest markets so that the shareholders were looked after before spreading the service to where it was needed most to negate the tyranny of distance as it would in the country.
"I have been very supportive of the National Broadband Network rollout as I see it as the railway of the 21st Century that will only make doing business in and from country Australia easier and more attractive."